New Orleans removes Confederate monument: "These statues have reigned" for far too long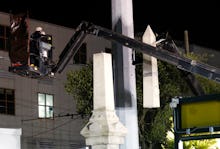 In the early morning hours on Monday, workers dressed in protective gear began removing the first of four Confederate monuments in New Orleans. The workers needed more than just hard hats, gloves and harnesses for the job — video published by the Associated Press shows the workers had also donned bulletproof body armor and face masks.
"These are the professionals you hired to take care of our history?" the angry voice of an apparent monument supporter bellowed, as workers dismantled and lowered the Battle of Liberty Place monument before dawn. The phallic statue commemorated white activists who tried to overthrow a biracial post-Civil War government in New Orleans, according to the AP.
"There's a better way to use the property these monuments are on and a way that better reflects who we are," New Orleans Mayor Mitch Landrieu told the AP on Sunday. Landrieu, who is white, said three other Confederate monuments would be moved from their places of prominence in the coming days.
Leaders of the majority-black city struggled to lure contractors brave enough to risk backlash to move Confederate monuments that have long been considered symbols of anti-black racism, domestic terrorism and white supremacy. The monuments' removals come on the heels of a sustained effort by the local activist collective, Take Em Down NOLA. Although it didn't threaten a boycott in New Orleans, the local activist collective in March urged a much broader removal of Confederate symbols.
The debate over removing the monuments had been so heated that workers reportedly received death threats. The intensity of the backlash is evidence Louisiana has a long way to go to dismantle all traces of slavery and racism, leaders of state and local NAACP chapters said. Surely, Louisiana NAACP president Ernest Johnson Sr. argued, the removal of Confederate monuments in New Orleans is a good first step in acknowledging historic racial injustices that continue to impact black people in the Deep South and around the country. In 2017, it shouldn't take so much convincing, or tragic events, to motivate such steps, Johnson said.
"First of all, until this country apologizes for slavery — because slavery is an abomination — America has a curse on it," Johnson, who supports the monuments' removal, said in a phone interview. "A lot of people look at slavery as a social problem. But it was also an economic problem."
Johnson supports reparations to black Louisiana residents for historic wrongs. Moving the monuments alone isn't enough, he said.
Campaigning against Confederate symbols and their racist legacy isn't new for the NAACP. In 1999, South Carolina became a prominent battleground for the debate over the symbols, after the nation's oldest civil rights group launched what would be a 15-year economic boycott of the state. When Dylann Roof gunned down nine black parishioners at Mother Emanuel AME Church in Charleston in 2015, the anti-Confederate symbol movement in the south gained unprecedented momentum.
At the urging of then-Gov. Nikki Haley, members of the Republican-led South Carolina legislature voted to move the Confederate battle flag to a capitol museum. Their move came in tandem with actions in other southern states and in corporate America. Alabama's governor ordered its state flags removed from the Capitol because they contain the rebel banner, while Amazon and eBay banned the sale of Confederate battle flag merchandise online, among other actions.
NAACP leaders voted by resolution to end its boycott of South Carolina in July 2015. But a plan to move New Orleans' monuments stalled as a debate grew bitterly divisive.
New Orleans' majority-black city council voted 6-1 in 2015 to approve the monuments' demolition, according to the AP. But lawsuits from monument-supporting groups held up the plan, until it was recently resolved in state court.
"This secretive removal under the cloak of darkness, outside of the public bid, masked contractors and using unidentified money wreaks of atrocious government," Pierre McGraw, president of the pro-Confederate monument group Monumental Task Committee, said in a statement posted to Facebook. "People across Louisiana should be concerned over what will disappear next."
Statues honoring Confederate Generals Robert E. Lee and P.G.T. Beauregard, as well as a monument to Jefferson Davis, the president of the former Confederate States of America, will be removed at later dates, the AP reported. In a statement released Monday afternoon, the local NAACP branch said it would continue seeking other forms of racial justice in New Orleans.
"While we continue to seek civil rights justice in many areas of education, employment, housing and others, this is a welcome semblance of the long overdue road to civil justice and advocacy in New Orleans, Louisiana," Gloria Hall-Johnson, president of the New Orleans NAACP, said in the statement. "These statues have reigned in prominent locations far too long, while we have fought for decades to have them removed."
It's not just Confederate statues that serve as reminders of slavery and white supremacy in the Deep South. Slave-built mansions on sprawling plantations are big tourism drivers in Louisiana, Johnson, the Louisiana NAACP president, said. Meanwhile, many homes in the hard-hit, majority black Lower Ninth Ward of New Orleans haven't been fully restored to their pre-Hurricane Katrina state.
"I don't see a dime being put into anything to help the descendants of slaves," Johnson said in the interview. Although billions of dollars in state and federal funds have gone to help New Orleans neighborhoods and other communities affected by Katrina, the uneven distribution of those resources and the accompanying decline of the size of New Orleans' black population was akin to racial injustice, Johnson said.
Johnson has not ruled out the need for future boycotts to drive more changes in the state. "We must use whatever tools are available to use that are legitimate and of legal means," he said. "We should do what we can to oppose racism wherever we see it."