Anthony Bourdain says these are the douchiest foods you can order at a restaurant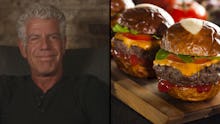 Are you contributing to the "douche economy"? If you shell out the big bucks for overpriced dinner "specialties" like Kobe beef sliders, you very well might be, says Anthony Bourdain. 
Mic caught up with the irreverent celebrity chef and TV personality on April 18 at the Wythe Hotel in Brooklyn, New York, where Bourdain was hosting the Balvenie and American Craft Council's 2017 Rare Craft Fellowship Awards. Bourdain had a bone to pick with restaurant menus that promote foods with buzzy adjectives, saying he gets a "sinking feeling" when he sees "unnecessarily tarted up" dishes like truffle fries.
"I think any time you have a giant bottle of champagne with a sparkler in it, you are at the epicenter of douche-dome," Bourdain said. "Anything involving Kobe or Wagyu — that is not a small steak — is already suspicious." 
"The presence of a Kobe slider on a menu is [...] definitely a flashing red light," he continued. Kobe meatballs sound the same alarm. But it's not just clubby bubbly and fussy meat that bug Bourdain: "When there are people with flights of beer, doing tasting notes? For me, that's the ninth circle of hell," he said.
So, what is it, exactly, that Bourdain finds so disturbing? Part of it is the priority given to conspicuous consumption over true quality or value.
Customers who buy into certain high-end dishes may think the foods give off an air of class — but that's exactly what you're paying for: air. Indeed, most of the foods Bourdain listed are sold with top-dollar markups because they merely imply sophistication. Your truffle fries are probably full of lies.
Here's why.
Is that Kobe, Wagyu — or "wangus"?
The problem with Kobe and Wagyu beef? "Only a sliver of the many restaurants claiming to serve it offer the real thing," as Bon Appetit reports. "Instead, many serve what's known in the trade as 'wangus,' a hybrid of domestically raised Wagyu breeds and common Angus and call it Kobe. Some don't even bother using any Wagyu breed at all."
In other words, when you order those costly Kobe beef sliders off the menu, you very well might be just paying for the name. 
This fraudulence is widespread: In the book Real Food, Fake Food and an article for Forbes, author Larry Olmsted claims "real" Kobe beef is only served at about a dozen U.S. restaurants, yet the term shows up on loads of restaurant menus.
Kobe's cheaper derivative, Wagyu, is often used in its place. There's no real standard for descriptors like "Japanese beef," "Japanese Wagyu," "domestic Wagyu," Olmsted wrote, and that's where things get really muddy.
Beware the truffle hustle
The so-called "douche economy" isn't limited to beef, Bourdain said. Foods like truffled french fries ("what's wrong with a french fry?") and truffled mac and cheese can cause customers to fall into a similar trap. Such menu items may suggest edible opulence, but it's more likely you're being ripped off.
According to Reader's Digest, truffle oil tends to be overrated and overpriced because it's often diluted with other ingredients. "By working in one expensive ingredient in small batches (see: truffle oil, foie gras), many customers are cheated into believing they're getting a taste of highbrow fare for a relatively low price," Sheri Alzeerah wrote. "Beware: Most commercial truffle oils are created by mixing olive oil with a lab-produced chemical."
That's right: Those crispy fries are most likely drenched in artificial flavoring.
Don't let yourself feel buyer's remorse. Just get acquainted with all the foods that get the most ridiculous markup treatment and vow to never order them again. You're better than that — and you can still enjoy your favorites, the right way. Love truffle? Buy the real thing and DIY your own umami feast at home.
And if you need a little more convincing, check out Bourdain's passion (rage?) in the clip below.
Want to see more of Mic's Bourdain interview? Check out the star's advice on how millennials can overcome debt — based on his personal experience.
Sign up for The Payoff — your weekly crash course on how to live your best financial life. Additionally, for all your burning money questions, check out Mic's credit, savings, career, investing and health care hubs for more information — that pays off.