Matt McGorry talks 'The Mask You Live In,' toxic masculinity and being a feminist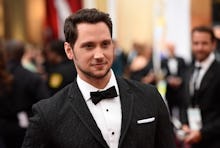 Matt McGorry, star of Orange Is the New Black and How to Get Away With Murder, is taking a short break from his ongoing advocacy for human rights to promote director Jennifer Siebel Newsom's The Mask You Live In, a stirring documentary about toxic masculinity. 
Toxic masculinity, as defined by the Good Men Project, is "a narrow and repressive description of manhood, designating manhood as defined by violence, sex, status and aggression." It's also what can result from boys and men being repeatedly exposed and held to oppressive masculine stereotypes.
If boys think they must fit into those stereotypes, they might repress their emotions (stereotypically feminine), which can lead to depression and acting out. This is likely why suicide is the third most common cause of death among boys. Needless to say, it's an issue that deserves some serious attention.
Having spent the past two years standing up for feminism (among a whole host of other socially conscious issues), McGorry was the perfect representative for such a film. And it doesn't hurt that he's been a fan of Newsom's work ever since he saw the critically acclaimed film Miss Representation. In fact, he tweeted at her about it, which was the catalyst for his involvement with The Representation Project — Newsom's non-profit organization that uses film and media to expose deep-seeded problems with gender stereotypes.
"[Miss Representation] was sort of the beginning of my journey into social consciousness," McGorry said at The Mask You Live In premiere in New York City. 
"I simply never had a conversation about sexism in any sort of deep way with anyone. It was not on my radar, which was strange and disturbing."
He suddenly realized as a white, heterosexual cisgender man (meaning he was assigned "male" at birth and identifies with that gender) he had to do more. So he started advocating for feminism; an undertaking that was accompanied by constant personal education and the deconstruction of longstanding masculine stereotypes.
"I began peeling back the layers of my own internal bias, and the bias that comes from just existing in this culture," McGorry said.
He started to see the stark contrast between how men and women are treated. But rather than separate him further from women, it brought him much closer.
"With the women in my life, I feel much more connected, because I have a context for a lot of the issues women deal with that I never had before," McGorry said.
It was by no means an easy step for McGorry, but that's part of the point. He believes it's necessary to wade through difficulties and overcome obstacles in order to achieve real change.
"Part of deconstructing that idea of masculinity is recognizing I can't always be in control and I can't always be right," McGorry said. "And to be more right over time, I have to be wrong at some point."
Men of the world, take note. 
His personal enlightenment also helped him have constructive conversations about feminism with other men in his life. His hope is that the conversation keeps growing and combats the incredibly destructive power of toxic masculinity.
Of course McGorry plans to continue using his celebrity status to advocate for all the social awareness issues in which he believes, not just feminism. For him, that involves a lot of protesting, which he says needs to remain a staple of everyday life for true change to take place. 
"I think [protesting] just has to be a part of our normal lives. For me, it's about how we keep people engaged going forward. The pressure can't let up."