Rainway App Nintendo Switch: Free app promises ability to stream PC games to the console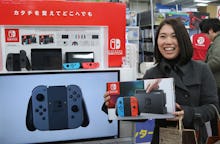 The Nintendo Switch's greatest asset is its portability, and yet Nintendo's own commitment to what that portability means is still a little uneven. Case in point: outside of hacking, there's no way to access Netflix on the Switch. This isn't surprising since Nintendo said as much about streaming apps before the Switch launched, but still. 
However, if you're interested in another side of streaming, an app developer has announced he's got something that will allow you to stream PC games to your switch. What's more, they've promised that it will be available on the Nintendo eShop — for free.
Rainway App Nintendo Switch: Here are the details about the forthcoming app
According to Nintendo Life, developer Andrew Sampson is making an app called Rainway, which would allow you to stream PC games to your Nintendo Switch via a web browser at 60 fps. According to Sampson, you'll be able to do this for free — he's promised in his statement that the app is free — without installing any sort of extra hardware — Rainway will work as long as what you're attempting to stream from has a GPU that supports DirectX 11. 
Sampson hasn't stated when the app will be released for the Switch proper, but has stated that he'd like to test it out on some beta consoles in May, according to My Nintendo News. 
If it works, and works well, it could be huge. But it could also have huge consequences for Nintendo as well. A free app that basically hijacks the Switch and gives it the ability to stream games from your PC could be extremely bad for Nintendo, especially if it means the difference between streaming Stardew Valley off your Steam account instead of, say purchasing a copy of Stardew Valley for the Switch.
Rainway App Nintendo Switch: Here are the foreseeable problems with the app's implementation
If this seems a little too good to be true, that's because it might be. According to a reddit thread that sprung up in the wake of Rainway's buzz, there's a few hurdles the app will have to clear first to make it to the finish line. For one, there's a huge difference between Sampson saying that Rainway will be on the Nintendo eShop and Nintendo approving it. 
"He didn't actually confirm Nintendo had approved it," user Incrediblebulk92 noted. "The difference between the developer saying that it'll be on the eShop and Nintendo actually approving it could be massive."
Even then, other users expressed doubt as to whether or not a software-based streaming app would even be able to do what's being promised, as opposed to one going through the graphics card of the PC.
"I am sure we'll see some local network tests that can show its potential," conceded Comrade_Sprinkles_73, "But as with any of these solutions, the issue is more that this will use a significant amount of bandwidth and odds are you won't have that much on the go." 
If it works, Rainway could cause a massive shake-up. But that's still a pretty big "if," until we get confirmation from Nintendo that what Sampson is doing is above board and some more evidence that it can stream games at 60 fps without considerable performance issues, Rainway will remain a nice thing to fantasize about and not much more.
Check out more Nintendo Switch news and coverage
Looking for more Nintendo Switch news? Learn why the Switch cartridges taste so badand how blind gamers are joining in on the Switch fun. Check out our comparison photos sizing up the Switch to the Wii U GamePad (part one and part two), find out how to make use of ethernet without the dock and the best way to get alerts when new stock arrives.