Met Gala 2017: Date, theme and more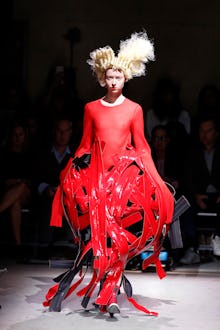 The life and work of legendary fashion designer Rei Kawakubo will take center stage May 1 at this year's Met Gala spring exhibition and fundraiser in New York.
The annual swanky soirée and fashion show is known for hosting A-list celebrity guests wearing themed, high-fashion ensembles.
This year's theme, Comme des Garçons: Art of the In-Between, examines the extraordinary history and impact of Kawakubo on the fashion world, according to the Met's website.
"Rei Kawakubo is one of the most important and influential designers of the past 40 years," curator Andrew Bolton of The Met's Costume Institute said on the museum's site. "By inviting us to rethink fashion as a site of constant creation, recreation, and hybridity, she has defined the aesthetics of our time."
Vogue editor-in-chief Anna Wintour will serve as co-chair of the May 1 gala along with supermodel Gisele Bündchen and her NFL-star husband Tom Brady, as well as recording artists Katy Perry and Pharrell Williams. Caroline Kennedy, former ambassador to Japan, will be honorary co-chair.
A 150-piece exhibition featuring Kawakubo's designs from the early 1980s to the present will be on display at the Met May 4 through Sept. 4.
Who is Rei Kawakubo?
A household name in the world of high fashion, Kawakubo is a Japanese designer who founded her Comme des Garçons brand and fashion house back in 1969, according to the Met. "Comme des Garçons" is French for "like some boys."
In 1981, Kawakubo made her first major introduction into the dominant fashion industry of the West, bringing her collection to Paris after years of developing her brand in Japan, according to the New Yorker. She was 39 at the time.
Since then, she has become one of the world's preeminent designers, known for challenging the traditional fashion grain with attention-grabbing, often elaborate or unorthodox fashion designs.
April 26, 2017, 5:07 p.m.: This article has been updated.