SheaMoisture apologized for their "whitewashed" ad — but didn't mention black women once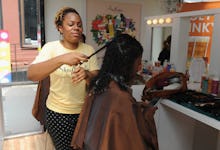 SheaMoisture needs some of their own conditioner for this dry apology.
The family-owned business, founded by a black family that fled Liberia for the United States, has been around since 1912 and sells hair and skincare products that are popular among black women. 
But you couldn't quite tell that in an ad the company released on Monday, which featured white and fair-skinned women using the product.
The ad was an apparent attempt to make the company's products attractive to white consumers.But, according to a Refinery29, black women spend substantially more on hair and beauty products than their white counterparts, spending approximately $7.5 billion every year.
Users of SheaMoisture roundly rebuked the ad, calling the company out for not featuring a single dark-skinned black woman, or a woman with tightly curled hair in the ad.
The company issued an apology for the ad late on Monday, but didn't once mention the black women consumers who've made them a household name — and highly profitable to boot. 
"While this campaign included several different videos showing different ethnicities and hair types to demonstrate the breadth and depth of each individual's hair journey, we must absolutely ensure moving forward that our community is well-represented in each one so that the women who have led this movement never feel that their hair journey is minimized in any way," the statement reads. "We are keenly aware of the journey that WOC face."
The outrage surrounding the company's new ad campaign wasn't just about its exclusion of "women of color" — it was about black women, specifically. 
It was about black women who are the engine of a multi-million dollar hair and skincare industry, black women who rarely ever see positive images of themselves in mainstream media, black women who've flocked to family-owned enterprises like SheaMoisture to fill the void that mainstream corporations like Johnson & Johnson have left behind.
SheaMoisture even seems to know this. It's the audience they're targeting with products like "Jamaican black castor oil" and "African black soap."
It's also the audience that they risk losing faster than their products were flying off the shelves. 
In a statement to Mic, SheaMoisture founder and CEO Richelieu Dennis clarified the company's apology, saying black women are the ones who built the SheaMoisture's community and that "you can't take a 25 year body of work and condense it into one post":
When we referred to our community, black women is who built this brand. That's who the community...and that's exactly who we're referring to. We've been very clear and very articulate that black women are who built this community and who have driven the culture of natural hair and that it's now and has driven that culture to where other consumers are now embracing their natural hair.
April 25, 2017 10:13 a.m. ET: This story has been updated.