Who was eliminated in week 6 of 'Dancing with the Stars'? Shocking results upset fans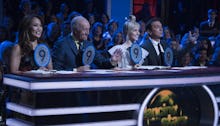 Monday night's Dancing with the Stars episode theme was "boy bands and girl groups," which unfortunately made the elimination at the end look even more sexist. 
Despite her and Maksim Chmerkovskiy's truly awesome rumba to TLC's "Waterfalls" — which received the first perfect score of the season — Glee star Heather Morris had to depart at the end of the night. While the judges have repeatedly praised her dancing, she unfortunately did not receive enough audience votes to remain in the competition. Fans were more than a little ticked off at the announcement, especially because all four of the remaining male contestants (three of whom were circling the drain score-wise) were revealed as safe from elimination before the group dances. 
The upsetting, and seemingly misogynistic, results set Twitter on a rampage. 
The dismay and frustration is understandable. Morris had to perform for weeks without Chmerkovskiy, her regular partner, because he sustained an injury — and she still managed to nab respectable scores. She's also shown consistent improvement since the beginning of the series. 
Unfortunately, however, as avid fans of DWTS have come to realize, eliminations can often have more to do with the star's popularity than actual dancing competence. 
It's doubly sad because just as the show got Maks back, he had to take his leave for good. Fortunately, however, his brother Val is still very much a key player with his unflinchingly fantastic partner, Normani Kordei. Their salsa to the Pussycat Dolls' "When I Grow Up" scored a 38 out of 40, which put them right behind Morris.
Seriously, how on Earth was she eliminated?
As far as the actual group dances went, the girl groups beat the boy bands by one point (34/40 to 33/40) with their freestyle to a medley of "My Boyfriend's Back" by The Chiffons, "No Scrubs" by TLC and "BO$$" by Fifth Harmony. The boy band's freestyle to "Dancing Machine" by The Jackson 5, "You Got It (The Right Stuff)" by New Kids on the Block and "Best Song Ever" by One Direction was respectable, but mainly crafted around overt use of shirtless gyrating. 
Here's hoping talent starts to outrank popularity — and abs — in the show's coming weeks, because it's likely DWTS lost fans over this week's gender-underlined elimination. 
Mic has ongoing DWTS coverage. Please follow our main DWTS hub here.