Why is Donald Trump not attending the White House correspondents' dinner?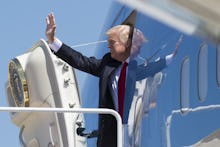 Unless he has a last-minute change of heart, today, President Donald Trump is set to become the first sitting president to skip the annual White House Correspondents Association dinner in 36 years, according to NPR.
Seven days ago, the president reaffirmed his Feb. 25 tweet announcing he would not attend tonight's customary gala with his colleagues in the media. Instead, Trump tweeted on April 22 that he's hosting a "BIG rally in Pennsylvania."
But why?
The president certainly had no problem attending correspondents' dinners back when he was just a celebrity. The former reality TV star has never been one to shy away from the spotlight, so why would Trump ditch tonight's dinner?
The likeliest answer is a sadly simple one.
Trump just can't take a joke!
You'd think he'd be used to it by now, but nah.
The billionaire's decade-long back-and-forth feud with comedian Rosie O'Donnell, for example, is the stuff of pop culture legend. O'Donnell was co-host of The View back in 2006 when she criticized Trump's decision not to fire Miss USA beauty queen Tara Conner after details of Conner's alleged drug use and underage drinking were revealed, according to CNN. (Trump used to own the Miss USA, Miss Teen USA and Miss Universe pageants; he sold them to the WME/IMG talent agency in 2015.)
After O'Donnell made subsequent jokes about Trump and his multiple bankruptcies on The View, Trump responded in an Entertainment Tonight interview, calling her "fat ass," "unattractive," "disgusting," a "slob" and a "loser," while threatening to sue her.
In 2013, the real estate mogul actually sued comedian Bill Maher for $5 million after Maher joked that one of Trump's parents was an orangutan.
Maher was in disbelief.
"Really? We're going to court about this?" the comedian said during a 2013 episode of his HBO show, Real Time with Bill Maher. "His lawyer sent me a letter. I shit you not. This is real," Maher continued before quoting from the court document, which cited Trump's birth certificate as proof his dad wasn't an ape. "Do these morons even know it's impossible for people and apes to produce offspring?!" he added.
Since taking office earlier this year, Trump has taken the cast of Saturday Night Live to task for repeatedly poking fun at his expense, with actor Alec Baldwin starring as impersonator in chief. SNL has been poking fun at politicians on both sides of the aisle for decades, but it looks like Trump isn't laughing.
It's no wonder then that the president wouldn't want to attend the White House correspondents' dinner, where he'll be surrounded by journalists, and at least one comedian, who have repeatedly criticized him.
Hasan Minhaj, a Muslim American funny man who has joked about Trump's tweets and his proposed Muslim travel ban in the past, was chosen to host this year's correspondents' dinner. Minhaj did more than tell jokes when he hosted the Radio Television Correspondents Association dinner in June; he also lectured the room about Congress' failure to pass gun control measures following the Orlando nightclub shooting.
Minhaj expressed disappointment that Trump probably won't be there tonight.
"It is a tremendous honor to be a part of such a historic event even though the president has chosen not to attend this year. SAD!" he said in a Trump-mocking statement after his hosting gig was announced.
Perhaps the president should take advice from his old nemesis, Bill Maher.
"Public figures, of course, don't always like everything that's said about them, but that's how we roll here in America," Maher said during the same 2013 episode of his show. "We love our free speech and we love celebrities getting taken down a peg. So Don, just suck it up a bit and take it like everybody else."