Donald Trump's first 100 days: How his approval ratings compare to other presidents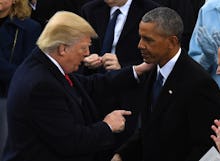 The 2016 election taught us polls are not everything. The surveys wrongly predicted now-President Donald Trump would lose to Hillary Clinton in an electoral landslide. That said, the gap in those election polls was never nearly as wide as the gap between those who approve and disapprove of Trump.
Since his inauguration, Trump has yet to break 50% in FiveThirtyEight's summation of presidential approval rating polls. He has hovered between a 40% and 45% approval rating since the beginning of February. Gallup, a longtime presidential pollster, pegged the president's approval rating as low as 35% at the end of March. 
Gallup has compiled all of its approval rating data going back to President Harry S. Truman. That data shows Trump has had the lowest approval ratings during his first 100 days of any president in the last 72 years.
Harry S. Truman
President Harry Truman took office as World War II was coming to an end and enjoyed an approval rating above 80% during his first 100 days. Only in the second year of his presidency and toward its end did Truman suffer Trump-level approval ratings.
Dwight D. Eisenhower
A former World War II general, Dwight Eisenhower enjoyed an approval rating largely above 70% during his first 100 days. Support for Eisenhower only dipped below 50% twice, with both instances lasting no longer than one polling period. Eisenhower's first 100 days were consumed by the gravity of ending the Korean War.
John F. Kennedy
President John F. Kennedy's approval rating began at 72% and would not dip below 70% until more than a year and a half into his presidency. Kennedy's first 100 days included him ordering an invasion of Cuba that would fail, establishing the Peace Corps and piloting food stamp programs.
Lyndon B. Johnson
The Texan's presidency began in mourning after the assassination of Kennedy. President Lyndon Johnson's approval rating hovered between 73% and 79% in his first 100 days, then steadily declined through his presidency. Johnson used his first 100 days to turn mourning for Kennedy into constructive momentum that would eventually yield Medicare and the Civil Rights Act. Only in the final year of his second term did Johnson's approval fall to 35% — equivalent to Trump's lowest Gallup rating so far.
Richard Nixon
President Richard Nixon's initial approval ratings were not as high as that of his predecessors, but he still settled into the 60% range for his first 100 days. Nixon announced his "policy of linkage" (incentivizing moderation by the Soviet Union), began secretly bombing Cambodia, moved the U.S. toward exiting the Vietnam War and sought approval for the Antiballistic Missile System. Shortly before his resignation from office with impeachment looming, Nixon had an approval rating of only 24%. 
Gerald R. Ford
Stepping into the presidency after Nixon left in scandal, President Gerald Ford's early approval ratings — initially above 70% — quickly plummeted. Still, Ford never saw an approval rating in his presidency as low as Trump already has — and Ford's rating barely dropped below 50% in his first 100 days.
Jimmy Carter
President Jimmy Carter is known for a challenged end to his presidency, when Americans were taken hostage in Iran. At that point, fewer than a third of Americans typically supported the president. But in his first 100 days, Carter enjoyed the support of at least 60% of Americans, often more than 70%. Carter took office amid the height of the Cold War and an energy crisis. It is generally accepted Carter tried to do too much, too fast — with some comparing what Carter attempted to Trump's approach.
Ronald Reagan
It was not until the third year of his presidency that Ronald Reagan reached an approval rating as low as what Trump saw in his first 100 days. At the beginning of 1983, only 35% of Americans approved of Reagan. But in his first 100 days, Reagan's ratings skyrocketed from 51% after he was inaugurated to 67% by the middle of April. Reagan was nearly assassinated in his first 100 days and also had to grapple with turmoil in Central America and the Soviet Union maneuvering near Poland. The New York Times said he was moving the government "into the greatest change of direction in half a century."
George H.W. Bush
Succeeding the exceedingly popular Reagan was not easy, but President George H.W. Bush managed to see his approval ratings grow steadily in his first 100 days. Bush took office at 51% and, by early April, was approaching 60%. He enjoyed widespread support until his third year, when support for the president dipped below 50% for the first time. Bush hit a low of 29% a few months before the 1992 presidential election.
Bill Clinton
President Bill Clinton drew a majority of the country's support for his first 100 days. Clinton moved a $1.5 trillion budget outline through Congress and came to the aid of Russia in his first 100 days, while also failing to pass a stimulus package. Even during the most controversial and challenged periods of Clinton's presidency, his approval rating was typically above 50% and never dropped as low as Trump's already has. 
George W. Bush
After winning the narrowest of elections in 2000, President George W. Bush took office in 2001 with the support of slightly more than half the country. Then 9/11 happened. Bush's approval rating skyrocketed to 90% in September, a few months after the end of his first 100 days. Bush's ratings before 9/11 hovered between 50% and 60%. At the time, Gallup noted the American public had roughly the same view of Bush at the end of his first 100 days as they did at the beginning — with around 60% of Americans supporting him. 
Barack Obama
President Barack Obama had a great first 100 days, so far as survey respondents were concerned. America's first black president was inaugurated in January 2009 into a world reeling from the collapse of Wall Street banks and federal government intervention to prop up the financial sector.
Through that turmoil, Obama never had an approval rating below 59% in his first 100 days, according to Gallup. No more than 31% of Americans disapproved of Obama during that period. 
Obama suffered from high disapproval ratings during 2011 and much of 2013 and 2014, but his first 100 days drew the highest ratings of his presidency. 
Trump must hope his presidency will not follow the trajectory of his predecessor, who enjoyed the most support immediately after his inauguration. Few polls have shown Trump with support among a majority of the country, while some continue to show him with less than a 40% approval rating.