'Persona 5' Moon Confidant: Befriending Yuuki Mishima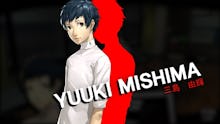 After the first palace in Persona 5, you'll form a bond with Yuuki Mishima — the Moon Confidant who, upon improving the relationship, will help your sidelined teammates also gain experience points and level up. This can be a super helpful skill if you're worried about level balancing.
Persona 5 gives you quite a few teammates to choose from. By the time you get to the second palace, you'll have to start making decisions about who you want on the team and who is going to sit on the sidelines, so let's show you where Yuuki Mishima likes to hang out.
How to rank up your relationship with Yuuki Mishima in Persona 5
Unlike other Confidants like Sojiro, the relationship with Mishima can be built at pretty much any point during the game. The relationship is mostly just conversations in various parts of town. 
Mishima hangs out in Shibuya, Shinjuku and Akihabara — his location will change as you unlock each area. Each new ability makes it easier to level up your whole time, so the quicker you can bond with him, the better. For a break down of each dialogue option, check out IGN's handy guide. 
More Persona 5 news, updates, tips and tricks
For more on the latest entry in the Persona series, check out the rest of what Mic has to offer. Here's a guide on how to capture Personas, and here's one on building relationships with the game's Confidant system. Here are some tips on beating the first boss and the second boss. Finally, here are the answers on some of the crossword puzzles.