Donald Trump Canada: Why is the president starting a lumber trade war?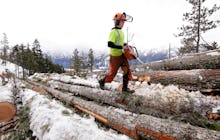 Canada's got wood, but America's not interested.
On Monday, the U.S. Department of Commerce said it was slapping a near 20% tariff on the import of softwood lumber from Canada, CNN reported. The Trump administration also singled out five companies, who will pay rates ranging from 3% at the low end to 24% at the highest.
In a fact sheet released alongside its decision, the Commerce Department said Canadian lumber exporters benefited from "countervailable subsidies," which it defines as " financial assistance from foreign governments that benefits the production of goods."
In Canada, most timber is owned by provincial governments, which charge companies a fee to log. Those fees are set by the provincial governments, not the free market. American lumber companies, who pay free market value for timber, argue that this creates an unfair advantage for Canadian companies.
Yelling over timber
American lumber companies were pleased with the decision. "Today's ruling confirms that Canadian lumber mills are subsidized by their government and benefit from timber pricing policies and other subsidies which harm U.S. manufacturers and workers," Cameron Krauss, legal chair of the U.S. Lumber Coalition, said in a statement.
Canadian lumber companies and politicians, meanwhile, were upset. "These duties stand to hurt hard working men and women in our mill communities across Canada," Derek Nighbor, CEO of the Forest Products Association of Canada, said in a statement.
And Canadian Prime Minister Justin Trudeau said he would stand up for Canadian companies, "whether it's software or softwood," CBC News reports.
The U.S.-Canada lumber trade dispute goes back to the 1980s. President Ronald Reagan first imposed a lumber tariff on Canada in 1986, leading the two nations to sign a Memorandum of Understanding that unraveled when Canada scrapped it in 1991. An agreement limiting Canadian lumber exports to the U.S. was signed in 1996, but that agreement expired in 2001 when the two sides couldn't reach an agreement to extend it. Another deal was signed in 2006, but expired in 2015.
A promise kept on trade
On the campaign trail, Donald Trump threatened to impose tariffs on China, the U.S.'s largest trading partner, and Mexico, its third-largest trading partner. But Canada, the nation's No.2 trade partner, escaped his notice. But as talks between the U.S., Canada and Mexico over the North American Free Trade Agreement, or NAFTA, loom, Trump has ratcheted up his talk on trade.
Lumber wasn't the only industry in Trump's cross hairs Tuesday. Trump also went after Canadian dairy farmers on Twitter.
Wisconsin is not a border state.