'Outlast 2': Walkthrough and Guide — How to survive the heretics and make it to the ending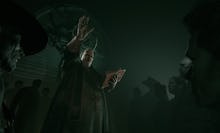 Outlast 2 by Red Barrels is a survival horror game that puts you in the shoes of journalist Blake Langermann as he journeys with his wife Lynn to explore the murder of an Arizona Jane Doe. Soon after the beginning of your trip, you'll find yourself separated from Lynn and in a hostile territory filled with bizarre inhabitants. This hub contains all our Outlast 2 guide content, and our walkthrough and guide will be updated regularly.
Outlast 2 tips and strategies
Outlast 2 is a game of stealth and item conservation, and you'll need to be on your toes if you hope to make it through. 
• Don't try to take on your enemies. Your best course of action in Outlast 2 is to run and hide whenever you spot danger. • Using the sound tracker on your camcorder is a waste of batteries. Turn your volume up or wear headphones and just use your ears.• If you get caught in a dark place with no battery, sometimes the best choice is just to let an enemy kill you. When you respawn, you'll have a fully-charged camera and a full health bar.
The guide below will help beginners to the series acclimate to Outlast 2's unique play style with even more in-depth tips.
This guide will help you learn the skills you need to survive against the heretics in Outlast 2.
Outlast 2 guides
These guides will help you learn more about Outlast 2's mechanics and learn how to find essential items in the desert.
This guide summarizes what happens in each Outlast game. Watch out — spoilers abound.
How many chapters are in Outlast 2
We show you how many chapters you must complete to finish the game, and what takes place in each of them.
Figure out what to look for when searching for bandages and when to save or use them.
We show you how to find valuable batteries in Outlast 2. Batteries power your camera's immensely useful night-vision function.
If you're having trouble getting past the pickaxe-wielding nun, our guide will help you out.
Outlast 2 collectibles
How to find all camcorder video recordings
We show you the locations where you need to be filming to earn each recording in Outlast 2.
What happened before you arrived? There are documents scattered throughout Outlast 2 that fill in the backstory. Here's where you can find each of them.
Outlast 2 articles
Where have we heard Josiah before?
The voice actor of Josiah in Outlast 2 may sound familiar. See where you may have heard him before.
Why are the heretics so crazy?
We tell you what affliction helped drive the cultists mad.
Outlast 2 PC system requirements
Outlast 2 doesn't take a ton of resources to play, and those with lower-cost builds shouldn't have any issue running it at high-max settings, according to the requirements on Steam.
Outlast 2 minimum requirements
OS: Windows Vista 64-bitCPU: AMD Phenom II X3 715 2.8 GHz or Intel i3-530 2.9 GHzRAM: 4 GBGPU: AMD HD 4870 or Nvidia GeForce GTX 260Hard Drive: 30 GB available
Outlast 2 recommended requirements
OS: Windows 7 64-bitCPU: AMD FX-8100 2.8 GHz or Intel Core i5-760 2.8 GHzRAM: 8 GBGPU: AMD HD 7850 or Nvidia GeForce GTX 660Hard Drive: 30 GB available
More Outlast 2 news, updates, tips and tricks
For more on the latest entry in the Outlast series, check out the rest of what Mic has to offer. Here's a guide on the Outlast series' storyline, and here's one with beginning tips and strategies. Here are some tips on finding bandages and batteries. Finally, here's our guide hub where you can find all our Outlast 2 content.