9 genius ways to save money on summer travel — from airfare hacks to hotel deals and more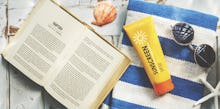 For a lot of people, spring fever is really just a yearning for summer. Are you craving that feeling of lying on the warm sand of a remote beach? Or trekking through an exciting city, carrying a map and little else?
The summer travel season is close at hand — but, boy, it can cost you: Vacations will typically set you back more than $500 for a short domestic trip and more than $3,000 for a longer international jaunt, ValuePenguin estimates. Does a relaxing (or thrilling) summer inevitably mean dropping a ton of cash? Not if you're a savvy traveler.
Indeed, a more expensive vacation isn't even necessarily better, according to a new study by HomeAway and the University of Texas: "A $500 vacation is just as memorable as one for $5,000," Melanie Fish, HomeAway travel expert told Mic by email. To maximize joy, bring your camera to capture those magic moments, but leave work at home — as working while on vacation will impair trip memorability, the researchers found.
Finally, be willing to think outside the box. While hitting the beach and amusement parks typically top most vacationer's list, survey respondents said heading to the mountains made for the most unforgettable getaway.
Whatever you choose to do and wherever you choose to go, here's how to make your summer sojourns as fun and affordable as possible.
1. Book flights ASAP...
One tried and true rule is to book your trip early, Keith Nowak, director of communications at Travelocity said to Mic by email. "Summer is truly prime time for travel, so time is of the essence when booking," he advised. "The earlier that you can book, the better."
Of course, there's a sweet spot between too late and too early. In general, if you book U.S. travel about 54 days in advance, you should see the biggest discount, according to a study by CheapAir.com. The annual study found if you book roughly between three weeks to three and a half months in advance you can find some of the best flight prices.
But summer is special: For the best deal on summer travel, book tickets about 76 days ahead — if you score tickets now, it puts you at the cusp of when the season starts to sizzle. And for international travel, you'll really want to hustle.
2. ...preferably on a Tuesday afternoon 
Airfare prices are usually set Tuesday morning after airline analysts find out what their competitors are charging: By Tuesday afternoon, prices are going to be as good as they are going to get, Barron's Next explains — and around 3 p.m. is the best time to buy, generally speaking.
As the week creeps along, so do prices and the cycle repeats again the following Tuesday morning. The best advice is to scan prices Tuesday afternoon and if you see a deal, grab it. Chances are, you will still be able to cancel after 24 hours if you find a better price.
Also comparison shop with services like Matrix ITA, which let you build in flexibility on dates and nearby airports and even view a calendar of low fares.
Finally, remember: Traveling light saves you from ballooning checked bag fees.
3. Know where hotel expenses hide
Those naughty fees sneak up and rain on your vacation, so knowing what to look for and how to work around them is key to saving cash. Extra fees include occupancy/tourism tax, city/local tax, internet service and newspaper delivery service, the Travel Channel found. 
During check-in, ask the front desk clerk to show you all fees before you hand over your credit card. You can get around the newspaper delivery fee by declining delivery, along with any other optional services. Ask if there is anything you can do to have your internet fee waived, or if you have an unlimited data plan, tether your phone to your laptop for WiFi. Also, leverage your position in the military, government, media or AAA membership status for a better overall rate.
To really amp up savings, stay at business hotels, particularly in places like Europe where occupancy is low during the summer, and consider services like Younderbound that pay you for writing reviews if your post leads to a booking. Other sites, like roomer and Cancelon, let you snatch up other people's cancelled rooms at a discount.
4. Take the path less traveled
A ski lodge in the middle of summer isn't actually a bad idea, Nowak said. "When thinking about where to go, sometimes looking for less obvious summer destinations, like beaches, can be a good call," he explained. "One of my favorite unexpected summer getaways is a ski resort area. You still have the amazing resorts, cool mountain towns, and there are tons of outdoor activities, like hiking, biking and ziplining."
Or opt for a location near a desired destination. Travelers to the Florida Panhandle can save $200 per night by staying in Panama City Beach versus South Walton, based on average nightly rates in the region, HomeAdvisor reported to Mic by email. And in North Carolina, you can save $56 per night by visiting central coast beaches such as Emerald Isle and Atlantic Beach versus the more popular Outer Banks area. When in the Texas Gulf Coast, save $136 per night if you stay in Port Aransas versus Galveston.
Although summer is typically peak season for European travel, Travel and Leisure pinpointed budget-friendly months for specific cities. Think Stockholm in July or Madrid in August. And don't forget beautiful, affordable Canada.
5. Save with ridesharing or a rental car
For the urban or small-town jaunt, ridesharing apps like Uber or Lyft are a better financial choice over a car rental, Time reported. If you can walk to many of the locations within your destination, are staying for a three- or four-day weekend and have to pay for parking, ridesharing or public transit is the way to go. However, if you are traveling a distance for a special event and have free parking at your hotel, take another look at car rentals. 
Speaking of car rentals, you can get a sweet deal with a bit of hustle. If you are flying, consider an outlier rental location instead of renting your car at the airport, Bankrate said. Also, keep the smaller car rental companies in mind, ask for a discount and shop around endlessly. Deal-making can continue when you are picking up your rental car — ask for a free upgrade or extras.
Another sneaky trick you can use? Book multiple rental cars through services with no cancellation fees — then cancel if you notice lower rates available closer to your travel date.
6. Crash at someone else's pad 
One of the coolest trends in vacationing is house swapping, where you literally "swap pads" with another person or family, without exchanging any money. A safe way to swap homes is through a trusted company like HomeExchange, HomeLink USA, and Love Home Swap, Realtor.com suggests. Pay a small yearly fee to join and peruse the worldwide home database.
You can do a direct swap or you can do a one-way swap but then rack up "points" when another member stays at your home. Those points can be applied toward a stay at another person's house.
If you rent, ask your landlord for permission to participate in the program — or consider a one-way alternative like Trustedhousesitters.com, and hunt down a beautiful European manor where you can stay for free in exchange for minor home-maintenance responsibilities. If you rent out or sublet your pad while you're gone, you might even earn cash or break even once your vacation is said and done.
Not only do you save a boatload of cash with a house swap, you can also have an experience you wouldn't have otherwise. One avid house swapper and financial planner wrote about his experiences in the Bradenton Herald, describing his stay at the $10 million penthouse overlooking Central Park swap and the three weeks staying in a quaint apartment built in the 1800s on Rue Victor Hugo, with a view of the Arc de Triomphe at the Champs-Elysees. 
7. Rent a vacation home and save money
If house swapping isn't your thing, renting a vacation home is a great way to save cash and have more room when you travel. Savings can still be up to 50% with a rental as compared to a hotel, and Forbes estimates savings are even deeper if you travel with several people. 
Another money-saving aspect to home rentals is being able to cook instead of eating out for every meal. Restaurant prices rose last year while grocery prices actually dropped, according to Time, so sample the local fare or shop at a nearby farmer's market to glean the true flavor of your vacation spot.
Just be sure to read up on local customs, which will help you enjoy your time more — and avoid getting scammed.
8. Use plastic to your advantage
You can leverage your credit card a few different ways to maximize your points. "If you book travel through your credit card issuer's portal you can end up getting more bang for your buck," Matt Schulz, CreditCards.com senior industry analyst said to Mic by phone. For instance, if you book travel using the Chase Ultimate Rewards portal you can earn a 50% bonus, which can be redeemed for travel, gift cards or cash, Schulz said.
Enjoying entertainment while on vacay? For those concerts, shows or events that always seem to sell out minutes after tickets go on sale, Schulz suggests using the pre-sale feature on cards offered by American Express and Chase. The money-saving feature is that you can still score tickets to certain events and acts at face value, without paying a higher price through a ticket broker.
Finally, if you are traveling abroad, the smartest move for paying for purchases might actually be taking out local currency instead of racking up exchange fees with your credit card. While foreign fees certainly apply to ATM withdrawals, too, you should call your bank and find out if they have a no-fee sister network in your destination country. And know that some bank accounts will even reimburse ATM fees worldwide.
Here are more expert tips on currency conversion so you never overpay.
9. Leverage travel apps 
Slash more dough off your trip using a number of money saving travel apps. Keep a currency exchange app handy if you are abroad. And drivers can find cheap gas quickly with Gasbuddy.com, Nowak suggested. "See a 'heat map' of gas prices; it may be cheaper to wait until you are out of a metro area to fill up."
Score deals on airfare using farecompare.com or skyscanner.com to quickly find the best price, and for up to 50% off hotels, try booking.com.
Finally, look for apps like triposo, which help you find vacation fun, like shows — but stick to your budget.
Sign up for The Payoff — your weekly crash course on how to live your best financial life. Additionally, for all your burning money questions, check out Mic's credit, savings, career, investing and health care hubs for more information — that pays off.