Government Shutdown 2017: What's the likelihood Congress passes a budget plan?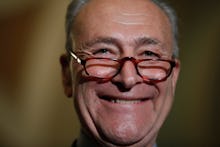 Democrats in Congress appear to have gained the upper hand in the latest budget negotiations to avoid a government shutdown this Friday.
On Tuesday, the Trump administration softened its hardline stance demanding Congress include funding for his proposed Mexico border wall in the budget bill, which Democratic lawmakers have refused to support, warning Republicans that a shutdown could loom if they press the issue.
Speaking on Fox and Friends Tuesday morning, Trump adviser Kellyanne Conway reaffirmed President Donald Trump's commitment to getting a border wall built before adding that funding for the wall doesn't have to happen by Friday.
Less than an hour later, Trump himself deflected attacks that he may be backing off his border wall campaign promise, insisting, still that it "will get built and help stop drugs, human trafficking etc."
With the wall issue likely out of the way — at least for now — leaders in both parties are optimistic that a budget deal will get done before Friday's midnight deadline, including Senate Majority Leader Mitch McConnell. However, he didn't rule out the possibility of a short-term budget extension being passed to ensure a deal gets done, according to the New York Times.
"Hopefully we'll reach an agreement sometime in the next couple of days," he told the Times.
Republicans are under the gun to get a deal done
Standard & Poor's estimates the last government shutdown in 2013 cost the U.S. economy $24 billion, and polls showed most Americans blamed Republicans for it back when they were in the minority in the House and the Senate.
Now that Republicans control both houses of Congress as well as the White House, failing to pass a budget will be even harder to explain to voters, especially after electing a president who campaigned on being the ultimate deal-maker.