Facebook Live killing in Thailand adds to string of disturbing incidents broadcast on site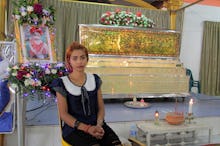 Facebook is under fire after a father in Phuket, Thailand, killed his 11-month-old baby and then himself on Facebook Live. 
Local police told Reuters the alleged killer, 20-year-old Wuttisan Wongtalay, was paranoid his wife, Jiranuch Triratana, was going to leave him.
According to multiple sources, gruesome footage of the incident remained on the social media site for about 24 hours before it was taken down. Facebook has yet to comment on the tragedy.
"This is the most evil clip I've seen in my life," Facebook user Avada Teeraponkoon posted on the site after apparently watching the video, Reuters reported. "I couldn't stand it for more than one second."
No charges for Facebook
Thailand's Ministry of Digital Economy told Reuters it contacted Facebook about the video Tuesday afternoon, clarifying the is unlikely to face legal repercussions from the government.
"We will not be able to press charges against Facebook, because Facebook is the service provider and they acted according to their protocol when we sent our request," ministry spokesman Somsak Khaosuwan said. "They cooperated very well."
Jiranuch Triratana told reporters she and her husband had been married about a year, but the relationship turned violent before Monday's deadly incident when Wongtalay allegedly hit her 5-year-old son from a previous marriage.
Facebook Live's disturbing pattern
Facebook has already been criticized for being slow to censor violence posted or broadcast on its site. On April 16, suspected Cleveland killer Steve Stephens posted video of himself shooting Robert Godwin in the face. Stephens evaded police for two days before being spotted ordering chicken nuggets and fries at a McDonald's drive-through in Erie, Pennsylvania. He fatally shot himself after a two-mile chase with police.
Facebook CEO Mark Zuckerburg addressed Godwin's death at an April 18 company conference in San Jose, California, according to Business Insider.
"Our hearts go out to the family and friends of Robert Godwin Sr.," Zuckerberg said. "We have a lot more work [to do] and we will keep doing all we can to prevent tragedies like this from happening."
On April 10, Georgia mom Shaniqua Stephens found her 13-year-old son, Malachi Hemphill, after he accidentally shot himself on Instagram Live. Instagram is owned by Facebook.
On March 19, the sexual assault of a 15-year-old Chicago girl was broadcast on Facebook Live by one of her attackers.
On Jan. 22, 14-year-old Naika Venant of Miami allegedly broadcast her suicide on Facebook.
Four black Chicago youths were charged with hate crimes in January after they beat, burned and tortured a man described by police as having "mental health challenges" on Facebook Live.
On Dec. 30, 12-year-old Katelyn Nicole Davis of Polk County, Georgia, hung herself to death and used the streaming app Live.me to livestream the incident on multiple websites, including YouTube and Facebook. The Washington Post reported it took Facebook two weeks to remove the video.