Navigating Trump's America: The biggest check on Trump in his first 100 days? Judges.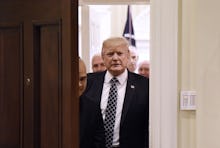 Almost a year ago, then-candidate Trump attacked a federal judge of Mexican descent who was hearing a lawsuit against Trump University. The attack was the latest Trump comment to stun the country. Little did we know Trump's run-ins with judges were just getting started.
Other than congressional dysfunction, Trump's opponents have judges to thank for stalling the president's agenda. The first 100 days of Trump's presidency have been marked by judicial decisions that have halted his agenda, particularly on matters related to immigration.
On Tuesday, a federal judge in San Francisco blocked Trump's executive order that banned federal funds from going to sanctuary cities. The amount of money on the line was small and the Justice Department was only planning funding cuts to a few cities. But the decision is another political blow, handed down by a court, to Team Trump's campaign promises.
A couple weeks into Trump's presidency, federal judges blocked his first travel ban on Muslim travelers. His second travel ban was blocked by other courts in Hawaii and Maryland. Those victories drew thousands of protesters into the streets and galvanized opposition against Trump.
Federal judges blocking campaign promises are not the only recent legal problems that have plagued the administration. In February, 23-year-old Juan Manuel Montes, who was deported to Mexico despite being protected by the Deferred Action for Childhood Arrivals program, brought a lawsuit against the Trump administration, seeking an explanation for its actions. Government watchdog groups continue their legal crusade against Trump's ties to his businesses. The lawsuit claims Trump is breaking federal law by benefitting financially from deals with foreign governments and the U.S. government. A host of lawsuits would likely dog any attempt to build the wall on America's southern border.
So far, the White House has continued to dismiss these legal attacks. On Tuesday, they said "the rule of law suffered another blow, as an unelected judge unilaterally rewrote immigration policy for our nation." The administration said they would appeal the ruling, along with rulings that blocked two attempts at a travel ban, to the Supreme Court. Attorney General Jeff Sessions recently dismissed the Hawaii judge as "a judge sitting on an island in the Pacific." Tuesday's ruling clearly has infuriated Trump: On Wednesday morning, he tweeted that groups opposed to his agenda are "judge shopping" to find favorable justices to strike down White House orders.
The takeaway: Try as they might, Trump cannot dismiss judicial orders like he can dismiss the marchers on the National Mall. Judges have played a pivotal role in Trump's first 100 days, steering a young administration back within the lines of the law.
This is Mic's daily read on Donald Trump's America. Welcome to the political newsletter that hopes it never has to go up against Trump in court. 
Highlights:
•  Today: A federal court blocked Donald Trump's executive order banning federal funds from supporting sanctuary cities.
•  More: Courts have been a strong check on Trump from the beginning.
•  Even more: A government shutdown looks unlikely.
•  Yes, more: Trump will announce the "biggest tax cut" in history today.
•  Trump's agenda today: Signing two executive orders: one to order a review of all national parks and monuments and another to order a review of the federal government's role in education. Having lunch with Vice President Mike Pence. Briefing the Senate on North Korea. Meeting with Secretary of State Rex Tillerson.
There will be no government shutdown
Trump officially caved on Tuesday night, with budget director Mick Mulvaney announcing Trump will sign a resolution to keep the government open without funding for the border wall. The White House is touting increased funds for "border security" — but not building a wall — as a small victory. It also seems a showdown over Planned Parenthood never materialized, and some conservatives are not pleased. Conservative radio host Rush Limbaugh said Tuesday that Trump seems to be "caving" on building the wall. Talk show host Mark Levin said it was time to "build the damn wall." The editor-in-chief of conservative CNSNews complained there will be funding for Planned Parenthood but no funding for Trump's wall.
"Biggest tax cut" in history
Treasury Secretary Steve Mnuchin is giddy. Trump will announce Wednesday that his administration wants the "largest tax reform in U.S. history," Mnuchin said Wednesday morning. Trump plans to cut the corporate tax rate from 35% to 15%. Conservatives believe that will allow businesses to create millions of new jobs. Some congressional Republicans, and virtually all Democrats, believe that the tax cut would blow a hole in the federal budget — forcing cuts to government education, welfare and other programs. House Speaker Paul Ryan has said he wants tax reform to be "revenue neutral," meaning Trump's proposed cut could be DOA.
There's still talk of a health care vote this week
Republican House leaders are keeping the door open to a vote on health care before the end of Trump's first 100 days. The compromise would let states decide what requirements health insurers must meet. That means, in some states, insurers could charge people with pre-existing health conditions more money and offer coverage that does not cover health needs like hospitalization, maternity care or addiction treatment.
It remains unclear whether Republicans have the votes, especially from moderates, to pass the bill. But one thing is just about certain: The bill doesn't stand much of a chance in the Senate.
News and insight you cannot miss:
•  Sen. Bernie Sanders and House Minority Leader Nancy Pelosi said the Democratic Party must be open to candidates who are pro-life, shaking reproductive rights advocates to the core. (Mic)
•  A Wyoming senator told a group of middle- and high-schoolers that a man who wears a tutu in a bar is asking to be beat up. (Mic)