US National Monuments: Trump orders review of "massive federal land grab" by predecessors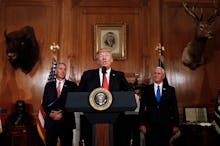 In what some critics are calling a monumentally short-sighted decision, President Donald Trump on Tuesday signed an executive order calling for a review of national monument designations since 1996.
The order applies to monuments created under the Clinton, Bush and Obama administrations, but Trump singled out his most recent predecessor in a speech shortly before he signed the order. 
"The previous administration used a 100-year-old law known as the Antiquities Act to unilaterally put millions of acres of land and water under strict federal control," he said. "The antiquities act does not give the federal government unlimited power to lock up millions of acres of land and water and it's time we ended this abusive practice."
"Massive federal land grab"
Trump called the designation of national monuments by the Obama administration an "egregious abuse of federal power" and a "massive federal land grab."
About 25 monuments could be affected, according to the National Parks Conservation Association, which opposes the order.
"To call into question whether our national heritage is worth protecting will have lasting repercussions on the preservation of our public lands for generations to come," Theresa Pierno, president and CEO of the group, said in a statement. "The Antiquities Act protected Bears Ears in Utah, adjacent to Canyonlands and other beloved national park sites, helping to prevent looting of significant cultural resources and preserving its sacred lands and iconic canyon country. And it protected Mojave Trails and Sand to Snow National Monuments in California, which connect to the Castle Mountains National Monument park site, together representing one of the greatest desert reserves in the world."
Barack Obama named 14 monuments during his eight years in office. George W. Bush named two, according to the National Park Service, while Bill Clinton named three.
"You can never go back"
Some have questioned whether the president has the authority to revoke national monuments, as it's never been tried before.
"The way that the Antiquities Act is structured, it essentially authorizes the president to proclaim, but not to modify or revoke, national monuments," Mark Squillace, a law professor at the University of Colorado and an expert on the Antiquities Act, told NPR in February.
Secretary of the Interior Ryan Zinke echoed that uncertainty. 
"It is untested, as you know, whether the president can do that," he told reporters.
If Trump is able to roll back national monument designation, it could allow the federal government to sell those lands or open them up for development, a move that would please developers and some local communities that rely on natural resources for income. But it would also anger conservationists and some Native American groups, who hold certain national monuments sacred.
"Once you destroy these types of resources, these habitats, these areas that are untouched, you can never go back," Shawn Chapoose, chairman of the Ute Tribe in Utah, told NPR.