Bunny dies on United Airlines: Here's the latest on the investigation into Simon the bunny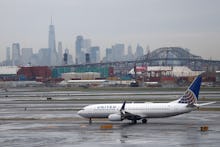 United Airlines is facing yet another public relations disaster, this time over the death of a furry passenger.
Simon, a gigantic 10-month-old, three-foot long rabbit, died on a United Airlines flight from London to Chicago. Annette Edwards, Simon's breeder, told the Associated Press, "Simon had his vet check just before getting on the plane," adding, "He was fit as a fiddle."
Edwards also noted that Simon is the offspring of Darius, the world's longest rabbit at 4 feet 3 inches.
Charles Hobart, a United spokesman, told the AP that Simon was alive and appeared healthy upon arrival at O'Hare. However, about a half-hour after landing, Simon seemed to be sleeping. Shortly after, a pet facility employee found the rabbit dead.
What caused Simon's untimely demise may remain a mystery forever. 
"We won't know the cause of death, because we offered to perform a necropsy free of charge — that's standard procedure — but the customer didn't want us to perform a necropsy, and we understand," Hobart said.
Bryan Bergdale, a farmland investment manager, told the AP he was the one who purchased the rabbit for $530 for his boss, who intended to show the giant bunny at the Iowa State Fair. 
"We'd built a pen and had toys all ready. It's sort of a sad deal," he said.
United Airlines has a less than stellar track record when it comes to transporting animals safely from one location to another. In fact, the carrier accounts for more than one-third of U.S. animal deaths aboard passenger flights during the last five years, according to USA Today. The outlet additionally found in the Transportation Department's Air Travel Consumer Report that United had 53 animals die on its flights from January 2012 through February 2017, compared to a total of 136 animals that died on all flights on all other airlines.
The Humane Society of the United States strongly urges pet owners to consider all the risks before ever checking an animal as cargo on a flight. 
"Air travel can be particularly dangerous for animals with 'pushed in' faces (the medical term is 'brachycephalic'), such as bulldogs, pugs and Persian cats. Their short nasal passages leave them especially vulnerable to oxygen deprivation and heat stroke," the group said in a blog post. 
Instead, it recommends pet owners drive if they can or simply leave their pet at home with a trusted guardian. Check out all of the organization's tips on traveling with your pet companion here.