'Outlast 2': How many chapters are there?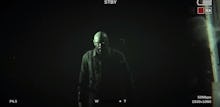 Outlast 2 is comprised of several chapters connected together that you'll complete by the end of the game. There's a chapter select feature that you can use to go back and replay chapters when you've already completed them. This should be useful if you're looking to return to previous sections and nab additional documents or recordings you might not have gotten the first time around. Here's every chapter in Outlast 2 for your reference, via personal experience with the game. 
Outlast 2: Every chapter in the game
There are six chapters in the game, each named after a book found in the Bible, beginning with Genesis and running through Revelations. The chapters are as follows:
Chapter 1: Genesis
This chapter serves as the "beginning" of the nightmarish tale, much like the book in the Bible it refers to. Things are just getting started, including the real investigation behind the murder that started it all. 
Chapter 2: Job
You'll meet up with the bizarre "Scalled" in this chapter, where sickly members of the cult live after being banished from their congregation. These creatures are frightening, but unfortunately like the rest of the enemies in the game you can't fight back against them. 
Chapter 3: Lamentations
You'll see some very strange things in this chapter, and pieces of the narrative will begin to become a little clearer for you. You'll explore a lake and experience some unsettling phenomenon. 
Chapter 4: Judges
Head down into the mines and a creepy school, as well as some traveling back and forth from the real world to a dream world full of disgusting sights. 
Chapter 5: Leviticus
Continue through the mines and face off against some frustrating enemies. 
Chapter 6: Revelation
The conclusion of the game, filled with "revelations" just like the title of the chapter. You'll also be seeing some very disturbing imagery here. 
Consult our plot guide for further explanations of what's meant to happen here if you're confused at the end of the game. 
More Outlast 2 news, updates, tips and tricks
For more on the latest entry in the Outlast series, check out the rest of what Mic has to offer. Here's a guide on the Outlast series' storyline, and here's one with beginning tips and strategies. Here are some tips on beating the finding bandages and the batteries. Finally, here's our guide hub where you can find all our Outlast 2 content.