DHS opens VOICE, Donald Trump's office for crimes committed by immigrants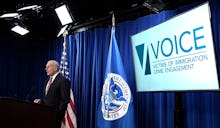 The Department of Homeland Security on Wednesday opened President Donald Trump's promised office dedicated to help — and draw attention to — victims of crimes committed by immigrants.
The Victims of Immigration Crime Engagement, or VOICE, will be housed within U.S. Immigration and Customs Enforcement, the agency responsible for deportations, the New York Times reported, and comes just as the Trump administration is looking to highlight Trump's accomplishments ahead of the 100-day mark.
"All crime is terrible, but these victims are unique — and too often ignored," John F. Kelly, secretary of homeland security, told the Times. "These are casualties of crimes that should never have taken place because the people who victimized them oftentimes should not have been in the country in the first place."
"Our mission is clear," Kelly added, "and that is to acknowledge the exceptional damage caused by criminal illegal aliens and to support the victims of these preventable crimes."
In addition to investigations, the office will also provide a hotline for victims and would be staffed by about 21 community relations officers and 27 specialists in victim assistance, the Times reported. Officials have yet to provide a budget for the new office.
Trump initially announced the office in February in a speech to Congress, and included VOICE in an executive order aimed at cracking down on illegal immigration, the Associated Press reported.
While Trump and Kelly may be enthused about the formation of VOICE, immigration advocates are condemning it. Many of the office's functions are already handled by ICE and most of VOICE's assets are already in place, according to the Huffington Post. As Mother Jones also reported, DHS officials suggested the office would target crimes committed not just related to undocumented immigration, but anything "with an immigration nexus."
"Scapegoating immigrants as responsible for crime is a common tactic used by abusive governments around the world, to create a convenient fantasy that a society's problems all come from the outside," Grace Meng, an immigration researcher at Human Rights Watch's U.S. office, told the Guardian. "If the Trump administration was serious about public safety, it would respect the stance taken by scores of law enforcement officials, who recognize communities are safest when immigrants are seen as important members of these communities, rather than outsiders who come to the U.S. to cause harm."
As Mic reported in February, immigrants are not only statistically less likely to commit crimes than native borns, but in some cases actually reduce crime rates, according to research in the Journal of Ethnicity in Criminal Justice. "We really weren't surprised by the findings," Lesley Reid, one of the paper's authors, told Mic. "What we found was consistent with all the research in this area."