'Outlast 2' Syphilis, Explained: Here's what the disease has to do with the in-game cult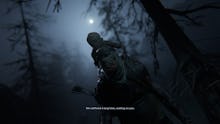 Outlast 2 and syphilis? It's not as outlandish as you may think. Outlast 2 is a game with several layers. It might seem like supernatural powers are at work when it comes to the chilling cultists in the game, but there are actually some potential explanations for some of what you'll see. 
The game features a camp of cultists cast off by the Temple Gate inhabitants, who appear to have some unknown ailment at first glance. That disease may be syphilis, according to the creator of Outlast 2.
Outlast 2: Syphilis and the cultists, explained 
At one point in the game, protagonist Blake Langermann reaches a camp of outcasts on his travels to the mines. The camp itself is managed by Deacon Laird, a man who's contracted some sort of unknown disease, with a small man who rides on his shoulders as an archer. 
It's likely that these camps of visibly diseased and dying people are actually riddled with syphilis, as suggested by Outlast 2 creator Philippe Morin during an interview with GameSpot at E3 2016. "There is going to be a place where people have syphilis. When it's really extreme, it can look like lymphosis," Morin said. Lymphosis, or lymphocytic leukemia, can result in chancre-like sores on the body, which is what can be seen on the cultists.
The game hints that the cultists are suffering from some sort of supernatural pox, but Morin's explanation is much more specific. These outcasts are seen as unclean, forced to live separately from the rest of the flock. They're shunned for having untold sexual encounters, as sex goes against the teachings of the cult. 
More Outlast 2 news, updates, tips and tricks
For more on the latest entry in the Outlast series, check out the rest of what Mic has to offer. Here's a guide on the Outlast series' storyline, and here's one with beginning tips and strategies. Here are some tips on beating the finding bandages and the batteries. Finally, here's our guide hub where you can find all our Outlast 2 content.