Still waiting for your tax refund? A scammer may have stolen your money.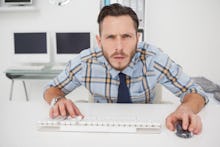 You did everything right this tax season. Against all odds, you somehow managed to get all your paperwork together and file on time. But for some reason, you still haven't received your refund. While it's possible the check is still "in the mail," there's also a a chance someone stole it. 
Taxpayers typically discover they've been scammed when the IRS rejects their return, Emma Fletcher, director of scam and fraud initiatives for the Better Business Bureau, told Mic in a phone interview. "Sadly, this is not very rare," Fletcher said. "Tax scams are a billion-dollar problem and while the IRS is doing better, it's still a big deal." 
Scammers hit millennials hard
Although millennials are less likely overall to be targeted by IRS scammers, they're six times more likely to hand over their credit card number and two times more likely to provide their Social Security number to a scammer than older generations, according to a study by First Orion.  
"Scammers are getting increasingly more aggressive — particularly around tax time," Jonathan Sasse, First Orion's chief marketing officer, said. The company found that scammer aggression increased around tax time, with calls tripling in the two months following the deadline to file.
At least 70% of the 1,000 U.S. consumers First Orion polled said they received a scam call in the last month. Of those who received a call, 12% got at least 21 calls within the last six months.
Tax scams are big business. According to the IRS, victims paid more than $23 million to scammers between October 2013 to October 2015. "Taxpayers can and should stay alert to new schemes, which seem to constantly evolve. We urge them to do all they can to avoid these pitfalls — whether old or new," IRS Commissioner John Koskinen said in a statement in February.
How do you know if your refund is safe or stolen?
Before you panic, track your refund to see whether it's still being processed or is in transit. If you filed electronically, you should expect your return in 21 days. If you mailed in your returns, it will take about four weeks to get your money. You can start checking the status of your refund roughly 24 hours after you e-file — and four weeks if you mailed a paper return — using the IRS Where's My Refund? tool. Find out the status of your state refund via the links provided here.
If the IRS tool claims your refund has already been sent but you haven't received it, ask the IRS to do a refund trace to make sure someone else didn't deposit your check. If it has been deposited, but not by you, immediately submit an IRS identity theft affidavit. Next, build a recovery plan by logging a complaint on the Federal Trade Commission's identity theft website. 
How to never get scammed again
What else can you do? Protect your identity, because once you've been victimized by tax fraud, you are more vulnerable to other types of identity theft, Fletcher said. 
"Check your credit [for free] at annualcreditreport.com and look for any problems," she added. "Also, put a fraud alert on your credit and consider a security freeze, which would block anyone from initiating any new credit accounts. The security freeze is a bit of a hassle and has some fees, but provides peace of mind." 
And once you've been scammed, that's exactly what you want.
Sign up for The Payoff — your weekly crash course on how to live your best financial life. Additionally, for all your burning money questions, check out Mic's credit, savings, career, investing and health care hubs for more information — that pays off.