'Prey' Demo: How to play the game's first hour early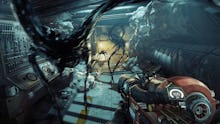 Bethesda's upcoming Prey reboot has a playable demo, and it's out right now. The game may be releasing on May 5, but if you just can't wait,  you're able to check out the entirety of the game's first hour right now. Have you been looking ahead to the game? This is your chance to take it all in before it finally drops next week. 
Prey demo: Early access to the game
If you want to play Prey ahead of its May 5 release on PS4, Xbox One and PC, you can access a demo right now that will allow you to play through the entirety of the game's first hour. That should be enough to get a feel for the story, the game's various mechanics, and some of the bizarre Mimic enemies, which do exactly what their namesake implies: They mimic everyday items. 
Playing the demo ahead of the game's release may be some of the only coverage you'll have to make a purchasing decision beyond early previews, as Bethesda has confirmed to GameRevolution that the company will not be providing early review code to reviewers, citing an earlier policy that previously went into effect. Unfortunately, this means at launch you won't be able to find reviews to assist you in figuring out if you want to buy the game or not. 
Prey demo: All achievements and trophies, listed
If you decide to play the Prey demo and like what you see, you can check out what kind of achievements and trophies await you below. Bethesda went ahead and listed all of them on the official Prey website.
Most are quite pedestrian, exactly what you'd expect from an action-shooter. Check out the infographic from Bethesda and see if there's anything that strikes your fancy.  
More gaming news, updates, tips and tricks
Check out the latest from Mic, including our deep dive into how female Overwatch players are dealing with online harassment, an article about a fan movement advocating for more same-sex romance options in Mass Effect, a personal essay about JonTron written by a fellow Iranian-American and an article looking at cultural diversity in Overwatch.