3 ways to save $1,000 this year — without stripping all the fun from your life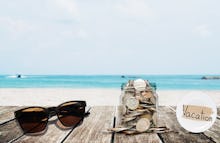 Saving $1,000 a year may sound tough, but you've never backed down from a challenge, especially one that puts an additional $1,000 or more in your pocket. Plus, this saving plan doesn't involve extreme austerity, so you can save without the pain.
And here's a pro tip: Remember to actually save the money, rather than blowing it somewhere else. Your first plan should be to roll extra savings into your 401k or an IRA account. Another smart move is to start or add to your emergency fund, which will come in handy when you least expect it. 
No matter where you stash your savings, here's how to  make sure you actually have some in the first place: 
Give your cable company the heave-ho 
If it seems like your cable bill keeps going up, you'd be right: Monthly bills rose from $99 in 2015 to $103.10 in 2016 on average, Fortune reported. That would explain why 700,000 people are expected to cancel their paid TV subscriptions in 2017, according to MediaLife, with the total number of paid subscribers sinking from just over 100 million in 2015 to just over 95 million in 2020.
So be brave and just cut the cord already for a potential annual savings of $1,237.20 based on 2016 bill averages.
Kicking the cable habit doesn't mean you can't still have home entertainment. One alternative is to purchase a $40 Mohu Leaf HDTV antenna, which allows free access to local networks like ABC, NBC, CBS and FOX, Forbes suggests. Hook up an HDMI cable to your TV and you can stream anything from your laptop onto the big screen. 
Make eating out a treat — not a habit
Cooking at home will fatten your budget, while possibly improving your health. People who cook more meals at home eat healthier and consume fewer calories than those who cook less, according to research from Johns Hopkins. Plus you can save quite a bit of money by cooking on a regular basis.  
The average individual adult consumer spends $200 to $240 per month on a "low-cost" grocery plan, according to the USDA. Eating out in various U.S. cities, on the other hand, costs anywhere from $29 to nearly $50 per meal on average, according to a 2016 Zagat survey — which also estimated that people dine out an average of 4.5 days per week, not including breakfast.
Even if you just spent $29 on dinner two times a week, that's $3,016 a year just to avoid making supper. Whoa.
Cut out just one restaurant meal a week and you'll save $1,508 a year. Nice.
Take a road trip this summer
As much as zipping across the country on a plane and lounging at a hotel sounds great for your summer vacation, you could do better budget-wise.  
Even a week-long vacation from Chicago to Virginia Beach, for example, will set you back about $1600 if you fly in early June and spend 7 nights at a hotel. (We used Kayak.com to search flight and hotel prices for a trip from June 6 to June 13.)
Consider road tripping and crashing with friends or family instead. While your transportation costs will be about the same — a roundtrip flight on Kayak starts at $187 versus about $160 for gas using Gas Buddy  to get the best price fuel prices en route — your real savings comes from skipping hotels.
So get out your maps and start planning your vacation on the cheap. Every road trip is an adventure and a bargain vacationer's ticket to budget-friendly fun.
Sign up for The Payoff — your weekly crash course on how to live your best financial life. Additionally, for all your burning money questions, check out Mic's credit, savings, career, investing and health care hubs for more information — that pays off.