PlayStation VR Games: The 5 best upcoming games for 2017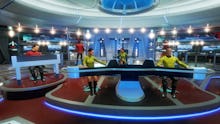 PlayStation VR is one of the best and most affordable ways to experience mid-range virtual reality if you're on a budget. If you have a PlayStation 4 and want to embark on a journey through some particularly amazing worlds, you'll definitely want to try out PlayStation's brand of virtual reality. There are still several games ready to release in the second half of 2017 to look forward to, so if Resident Evil 7 left you reeling and ready for more amazing virtual reality experiences, add these titles to your PSVR most-wanted list. 
Star Trek: Bridge Crew
Release Date: May 30, 2017
If you've ever wanted to assume command of your own ship in the Star Trek universe, Star Trek: Bridge Crew is for you. It'll put you right in the center of the action, piloting the USS Aegis, which puts you in the alternate reality previously established in the 2009 Star Trek film. Players are tasked with finding a new homeworld for the Vulcans, all the while combating the Klingon threat in an area of space known as the Trench. It's going to be a wild ride, especially for anyone who's always dreamt of boldly going where no one has gone before. You can do that now with the assistance of VR, and you can even bring your Oculus Rift and HTC Vive-owning friends along with cross-platform play! 
Farpoint
Release Date: May 16, 2017
Sony's been hard at work on sci-fi first person shooter Farpoint, ever since we saw its debut at E3 2016. It's your job to eliminate a whole host of spider-like aliens before they get you. And we all know the best huge, alien spider out to get you is a dead, huge alien spider. The game will let you utilize a PlayStation VR gun controller that you can slot a PlayStation Move wand into, so spider extermination will be made easy-peasy. It looks like frenetic, spider-laden fun all around, and PlayStation VR fans will likely be hungry for additional shoot-'em-up fun. It's been a while. 
ARK Park 
Release Date: TBA 2017
ARK: Survival Evolved got fans' pumped with its hit mixture of dinosaurs, survival gameplay and other bizarre add-ins. Now a spiritual successor is coming to PlayStation VR: ARK Park. In ARK Park, you'll be getting up close and personal with dinosaurs as you interact with them and even ride them in VR! On your own personal dinosaur safari, you'll be able to collect and categorize each species, feed them and work with dinosaurs in ways you never thought possible. Forget Jurassic Park. This is your own virtual dinosaur park, and that's way better. 
Tekken 7
Release Date: June 2, 2017
Jump into the newest Tekken with familiar characters like Jin Kazama and Yoshimitsu and welcome newcomers like Kazumi Mishima and Josie Rizal. With PlayStation VR support, you can get closer to the fight than ever. If you've never experienced a fighter in virtual reality, then you're in for a real treat, especially with Tekken's unique brand of combat and the new mechanics introduced. This should be a hot release for summer. 
The Persistence
Release Date: TBA 2017
If you like your virtual reality punctuated by horrific visuals and science fiction, you'll want to get your paws on The Persistence. Firesprite's upcoming VR-infused horror title is a procedurally-generated adventure meant to scare the pants off of you at every turn. There's even a mobile app that's meant to be used as a companion for the game. Friends can watch along as you stumble around the map and see exactly what you're doing, adding another element of surprise to the game. If Resident Evil 7 was right up your alley, you'll want to dig right into The Persistence.
More gaming news, updates, tips and tricks
Check out the latest from Mic, including our deep dive into how female Overwatch players are dealing with online harassment, an article about a fan movement advocating for more same-sex romance options in Mass Effect, a personal essay about JonTron written by a fellow Iranian-American and an article looking at cultural diversity in Overwatch.