Germany approves a partial burqa ban, citing security risks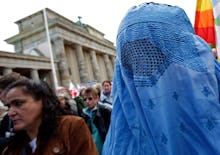 On Thursday, German lawmakers approved a partial ban on the full-face burqa, along with and a variety of smaller security measures, in the hopes of preventing future terror attacks, the AFP reported.
The new ban will outlaw public servants — including election officials, military and judicial staff — from wearing a full face veil while at their place of work.
"The state has a duty to present itself in an ideologically and religiously neutral manner," reads the text of the new law, according to AFP. People can now also be required to remove facial coverings in order to verify their identity.
In December, German Chancellor Angela Merkel threw her support behind the measure, saying in a speech at her party's conference, "The full veil is not appropriate here, it should be forbidden wherever that is legally possible. It does not belong to us," CNN reported.
Germany has been deeply divided over the last few years following Merkel's decision to open the country's borders in September 2015 and allow an estimated 1.1 million asylum seekers to enter. As the BBC reported in March, "Last year there was an outpouring of sympathy and help for the new arrivals from many ordinary Germans. But there were also many street protests by the right-wing Pegida movement, which claims to be defending Germany from 'Islamisation.'"
The BBC added that there have been hundreds of attacks on migrant hostels since the border opening, mostly fueled by fear following the Cologne attacks, and more recently by the truck rampage at a Berlin Christmas market that killed 12 people.
But not everyone agrees with banning a garment worn by women around the world. As Spiegel Online — one of Germany's most widely-read websites — noted in 2016, the debate over the burqa has little to do with security, but rather, "The debate has more to do with party politics and electioneering. In a complicated integration debate, the burqa is like manna from heaven for those who seek to over-simplify: Everyone can have their say and a ban simulates decisiveness, making it look like one of the problems Germany faces when integrating Muslims has been solved."
Moreover, the ban of a full-face burqa may be a moot point. German-Egyptian political scientist Hamed Abdel-Samad, an atheist and critic of Islam, estimated that maybe 200 to 300 people wear a burqa in Germany, according to the Washington Post.