The GOP's Obamacare repeal is once again on the brink of collapse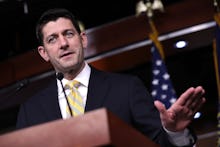 Republicans' latest attempt to repeal and replace the Affordable Care Act, commonly referred to as Obamacare, is once again on the brink of collapse, with 21 GOP House members planning to vote "no" on a revised version of their repeal bill, according to a count from the Hill.
With Republicans able to afford just 22 defections, that count is dangerously close to once again scuttling the repeal effort, similar to the initial ACA repeal bill that crashed and burned in March.
While the amended GOP bill, known as the American Health Care Act, earned the support of some conservative House Freedom Caucus members who were against the initial repeal effort, the changes to the legislation drove away more moderate members.
That's because the AHCA was changed to allow insurance companies to waive popular provisions of the ACA. The amended bill would allow insurance companies to charge sick Americans more for coverage, as well as waive "essential health benefits" — which mandate insurance providers cover things like hospitalization and prescription drugs. 
Medical advocacy groups have called the amended bill "dramatically" worse than the original AHCA.
As yet another repeal effort is on the verge of crumbling, some congressional Republicans say a large chunk of their caucus no longer wants to repeal former President Barack Obama's most significant domestic achievement — despite seven years of campaign promises to do just that.
While Obama was president, House Republicans voted more than 60 times to repeal the ACA.
Republicans earned their House majority by railing against the ACA, and promising to repeal it. 
President Donald Trump himself campaigned hard on repeal, saying it would be "easy" and warning that if the law wasn't repealed, it "will destroy health care in America."
If Republicans give up on repealing the ACA, one unnamed Republican member of Congress told the Washington Examiner that it would be "one of the biggest political shams in history." 
"Many of these members would not have been elected without promising repeal, and now they are wilting," the member told the Washington Examiner.