Trump will talk guns at NRA convention, but guns aren't allowed in the room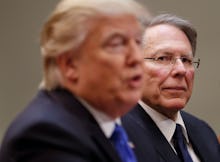 President Donald Trump wants National Rifle Association members to be allowed to carry guns almost anytime, any place in the United States, except when he's in the room.
The president is set to speak at the NRA's annual leadership meeting today in Atlanta, where the U.S. Secret Service has banned carrying guns during Trump's appearance, multiple sources confirm.
"The Secret Service works closely with our local law enforcement partners in each state to ensure a safe environment for our protectees and the public," the agency told CNN in a statement. "Individuals determined to be carrying firearms will not be allowed past a predetermined outer perimeter checkpoint, regardless of whether they possess a ticket to the event."
Law enforcement officials will be allowed carry weapons at the forum, as will NRA members attending the rest of the yearly conference, CNN reports.
Trump is set to become the first sitting president to speak at an NRA convention since Ronald Reagan did it in 1983, according to NPR.
Speaking at the same event in May of 2016, then-candidate Trump told NRA members if elected he wold get rid of gun-free zones, the Hill reports.
Guns were also banned at the 2016 Republican National Convention in Cleveland in July.
Georgia is an open-carry state in the middle of a heated gun rights battle with firearms proponents fighting to be allowed to carry their weapons on college campuses.
On March 28, the Georgia Senate passed House Bill 280, which would allow civilians to carry firearms on the campus of any college or university, according to the Atlanta Journal-Constitution.
The state house passed the same measure on March 3, according to the Journal-Constitution.
Republican Gov. Nathan Deal vetoed a similar bill last year, arguing the law would not make students safer on campus.
"I have to come, once again, to doing what I think is in the best interest of all the citizens of the state," the governor said, according to the Journal-Constitution.