Why the New Nintendo 2DS XL still makes for a viable purchase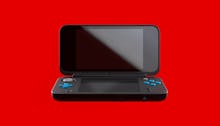 Nintendo made a surprise announcement last night, introducing a brand new piece of hardware. The Nintendo 2DS XL will be making its debut on July 28 for $149.99, featuring screens 82% larger than what the original 2DS provided. 
That's plenty of additional screen real estate for half the price of the Nintendo Switch. It's also a lot cheaper than making an investment in the Switch, the latest Nintendo home and handheld console hybrid. While it's true there's a dearth of features with the 2DS XL in comparison to the Switch, there are still several important reasons you should consider purchasing one of these systems. 
The 2DS XL is still very much a viable purchase, even for Switch early adopters, and the fact that it's just shown up on our radar proves that the 3DS still has a long way to go before being put out to pasture. I'll absolutely be purchasing a 2DS XL, and here's why you should too. 
Nintendo 2DS XL: Fold it up
The original Nintendo 2DS, which I immediately purchased in the "Peach Pink" color (had to get that Disney Magical World case), was a curious size and shape that felt much more comfortable in my hands than my original DS, DS Lite, DSi, 3DS, 3DS XL, or New 3DS ever did. As new iterations of the DS were paraded out by Nintendo, it seemed as though each top screen felt a little flimsier. By the time I had decided to adopt a 3DS XL, the top screen's very noticeable wobble had become unbearable in my eyes, so the utilitarian nature of the 2DS was a positive in my book. 
The original 2DS slightly resembles a very thin slice of cake, with no separation between the top or bottom screen, and of course no 3D support. It feels much more substantial to me, with my smaller hands, than any version of the DS or 3DS ever did, and I relished the lack of opportunity to fold the device. 
The 2DS XL affords you the opportunity to open and close your system to protect both (larger) screens this time around, giving you the form and functionality of the 3DS without the additional bells and whistles. The Switch can be carried around in a case, and you can use a screen protector on its massive screen, but at the end of the day it's still vulnerable. 
The 2DS XL offers a more rugged way to enjoy your games and should be able to take a fall much better than the Switch. If you like the attraction of the 2DS but were concerned about its lack of hinge to fold it closed, the 2DS XL solves those issues for you. The clamshell makes it a much easier sell, for sure. 
Nintendo 2DS XL: Wider variety of 3DS/DS titles than the Switch's library
Both Miitopia and Hey! Pikmin are releasing alongside the 2DS XL on the same day, two very different games that both hardcore and casual fans can enjoy together. Miitopia is a riff on the excellent Tomodachi Life, while this is the first new Pikmin game we've had in four years. But these are only the tip of the iceberg. If you're trying to choose between purchasing a Switch or a new handheld, the games on 2DS XL should be a no-brainer, especially since most of what the Switch currently has to offer are ports or re-releases. 
The 3DS library will even continue to expand, and aside from the addition of new releases like the upcoming Fire Emblem Echoes: Shadows of Valentia in May, there's a wealth of established titles you can play on the 2DS XL right now such as Pokémon Sun and Moon, Super Mario Maker 3DS, and more. You also have years' worth of releases to choose from created by a wide variety of developers. It makes sense to adopt a Nintendo 2DS XL if you're a newcomer to the systems to begin with, but a great idea if you missed out on older games, too. 
Nintendo 2DS XL: No real need for 3D support
While the Nintendo 3DS did an excellent job bringing 3D to the masses without the need of 3D glasses or additional peripherals, it ultimately proved to be a gimmick. It's a great gimmick, and I like to use it occasionally, but it doesn't add much to my gaming experiences. That's why I wasn't afraid to doff it entirely with my adoption of the Nintendo 2DS. 
Despite my lessened interest in 3D overall, it so happens that some recent 3DS titles don't include 3D support in the first place. Dragon Quest VIII, for example, does not support 3D. There's much less of a need for a system that doles out 3D as a feature when so many games just aren't built for it in the first place. 
Nintendo 2DS XL: More functional than the Switch for on-the-go play
Let's face it: Taking the Switch with you is a bit of a cumbersome process. Not to mention you're carrying around what is essentially a $300 screen with two hunks of plastic attached to either side. You can carry it around in a fancy case and hold it close to your person, but one drop or misstep and it's either broken or stolen. 
The Nintendo 2DS XL is a great solution to this problem, especially if a lack of disposable income is an issue as well. It doesn't need a screen protector because it can fold closed, it's half the price, and it's much less of a chore to cart it around everywhere. You'll still get a massive library of games, but you won't have to worry about carrying around an expensive Zelda: Breath of the Wild machine that's in very high demand right now. 
Plus, if you're the kind of person who would spend $149.99 on something your child will inevitably drop or damage, at least you're not out $300 if it has to be replaced. The 2DS XL could work very well as a rugged on-the-go device for responsible kids.
More gaming news, updates, tips and tricks
Check out the latest from Mic, including our deep dive into how female Overwatch players are dealing with online harassment, an article about a fan movement advocating for more same-sex romance options in Mass Effect, a personal essay about JonTron written by a fellow Iranian-American and an article looking at cultural diversity in Overwatch.