Steve Bannon: Trump's chief strategist is reportedly back in the circle of trust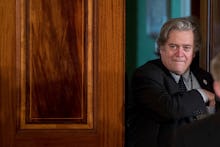 Steve Bannon — President Donald Trump's white nationalist campaign manager and chief strategist — is back in the president's good graces, according to the Hill.
"Steve was benched"
"Steve was benched, and I think it got his attention and he realized he had to step up and show the president how valuable he is," a source quoted as a "GOP operative with close ties to the White House" told The Hill. "He's kept his head down and got back to work and was ready when he was called upon."
Following a string of public and embarrassing legal defeats, Trump had reportedly spurned Bannon's counsel, preferring instead to take advice from son-in-law Jared Kushner and other, more moderate members of his inner circle.
First was the White House's failed attempt to suspend travel from seven majority-Muslim countries, a move widely credited to Bannon. Courts blocked the ban's enforcement, causing the White House to pull the executive order and promise a revised ban — only for a judge in Hawaii to issue a temporary restraining order blocking that ban, too.
Then came the White House's first attempt to repeal and replace the Affordable Care Act, a promise central to Trump's campaign. When it seemed likely a large number of moderate and conservative Republicans would not fall in line with Trump's proposed bill, the American Health Care Act, Bannon reportedly told members of the far-right House Freedom Caucus they had "no choice" but to vote in favor of the legislation. Members of the caucus spurned Bannon's warning, and the bill never reached the House floor. It was another black eye for Bannon, an example of his inexperience in wrangling legislators.
"He's not the skilled Washington politico"
"He's not the skilled Washington politico that runs around all day stabbing people in the back," the same unnamed source told the Hill. "Not that he wouldn't enjoy that, but it's just not what he's best at."
There was also Bannon's very public feud with Kushner, with Bannon reportedly calling Trump's son-in-law a "cuck" and a "globalist" behind closed doors.
Things appeared to reach a head when Trump removed Bannon from the National Security Council, a move that seemed to suggest the president had lost faith in his bombastic senior strategist.
But a recent spate of executive orders signed by Trump suggest Bannon still has the president's ear. Restricting work visas, ramping up border security, escalating the rate of deportations and nearly starting a trade war with Canada over wood all have Bannon's nationalist agenda written all over them.