The 9 coolest credit card rewards and perks you might not know about — and how to get them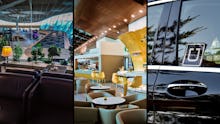 If you have a rewards-based credit card, how often do you actually use the perks owed to you? At least 31% of reward cardholders actually never redeem their credit card rewards, Bankrate recently found, which means they are essentially leaving money on the table. 
Credit cardholders are most likely to redeem cash back, followed by airline tickets and gift cards, but many unadvertised bonuses — like free checked baggage on flights and pre-sales for concerts and events — are overlooked.
"Take the time to research credit card sites and even call for current deals," Leanne Jacobs, a wealth expert, said via email. Since deals and perks can change over time, check in at least once a year to spot any cool new offers.
While you're at it, "ask for an interest rate reduction or perk while you're on the phone as well," Jacobs suggested. You'd be amazed at the kind of deals you can get just by asking — many of which may help improve your credit score.
Here are nine great, underrated credit card perks to take advantage of.
1. $200 in free Uber rides
If you have an American Express Platinum card, don't waste those free Uber rides that come with it. Cardholders receive $200 a year in Uber credit, plus are upgraded to Uber VIP status, the Points Guy reports. Uber VIP means you are driven by top rated drivers and cars, along with special elevated service and even giveaways.
2. Free TSA pre-check or Global Entry
Airport lines are the bane of most travelers' existence. TSA pre-check (which costs $85 for 5 years) helps get you through the line faster because your identity has been verified before you arrive at the airport and you don't have to remove your shoes, laptop, liquids, belts or light jackets. 
Global Entry, on the other hand, has a one-time $100 fee and makes it easier to get through customs when arriving in the United States. Several cards, including the Chase Sapphire Reserve, MasterCard Gold and Citi Prestige, give you a $100 credit for either. Check the TSA website for a full list of cards offering the TSA perk.
3. Cash for delayed bags 
There's nothing more annoying than seeing everyone grab their bag from baggage claim and yours never shows up. The good news?
Cards like Citi Prestige Card, Citi/AAdvantage Executive World Elite and Barclaycard Arrival World Plus World Elite offer up to $500 to cover costs while the airline searches for your bags, the Points Guy notes.
Ah, silver linings.
4. Free Wi-Fi in the sky
Many busy travelers would love to use their time mid-air to work (or play). But if you have to pay for Wi-Fi, you may just stick to a book instead.
While JetBlue has free Wi-Fi, most other airlines charge you. Your American Express Business Platinum card, U.S. Bank FlexPerks Travel Rewards Visa Signature card and City National Crystal Visa Infinite all offer free Wi-Fi passes. 
5. VIP treatment at a luxury airport lounge
Does eating at an airport kiosk and fighting for an outlet to charge your phone fill you with dread? If you carry a card like Diners Club Premier and United MileagePlus Club Card, you can avoid the airport rat race and enjoy a gourmet meal in luxury in a VIP airport lounge.
These lounges have everything from free drinks and food to showers, spa treatments and a place to lie down — without having to sprawl over armrests.
6. Check for baggage for free
With free checked bags becoming a thing of the past, fighting for overhead bin space has become sport, even if you're flying one of the "better airlines."
Luckily, if you carry Gold Delta SkyMiles Card from American Express, Citi/AAdvantage Platinum Select World Elite or United MileagePlus Explorer card, you can avoid the overhead bin smack down and check your bag for free. Some cards allow for all passengers on the reservation one free bag, while others limit the number of passengers. 
7. Skip the car rental line 
How awesome would it be to blow by the car rental line, especially after sitting on a long flight? Some credit cards offer elite car rental benefits, which includes skipping the car rental line, discounts and upgrades.
Cards offering specials on car rentals include Barclaycard Arrival Plus World Elite MasterCard, Virgin Atlantic World Elite MasterCard and American Express Platinum. Most credit cards also include collision damage coverage so you can save on rental car insurance.
8. Trip cancelled? You're covered.
The unexpected happens and sometimes you have to cancel your flight or cut your trip short. Although an itinerary change often means massive fees or simply eating the cost of the plane ticket, the Platinum Card from American Express and Chase Sapphire Reserve both offer trip cancellation or trip interruption insurance of up to $10,000, the Chicago Tribune reports.
Meanwhile, Citi ThankYou Premier offers up to $5,000 for cancelled flights, the Flight Deal points out.
9. Get early access to concert tickets 
If you have a Citi Visa, MasterCard, American Express credit card or a Citibank debit card with a MasterCard logo, you can join Citi Private Pass, which gives you unique opportunities to score pre-sale and VIP packages to concerts, sporting events, complimentary movie screenings and more.
Citi Private Pass is free, although separate fees may be imposed by the ticketing agency. 
VIP packages include premium seating, merchandise and even meet and greets with performers. A pre-sale feature lets you purchase tickets one to five days ahead of general sales. The preferred ticket feature is a special block of seats for Citi customers only and complimentary tickets for some events.     
Sign up for The Payoff — your weekly crash course on how to live your best financial life. Additionally, for all your burning money questions, check out Mic's credit, savings, career, investing and health care hubs for more information — that pays off.