London Terror Arrests: UK authorities say they have thwarted 2 terror plots in 24 hours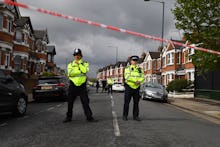 Police in London said they foiled two terrorist plots in less than one day during separate unrelated incidents Thursday.
Authorities in London shot one woman and arrested six other people in two separate raids, one in the Willesden neighborhood of northwest London and another in the southeast England county of Kent.
At 7 p.m. local time, police shot tear gas into the Harlesden Road home in Willesden where they shot a woman in her 20s before arresting another woman and a man, both 20, as well as a 16-year-old boy, according to multiple sources. They later arrested a third woman and a man, both 28, who returned home to the same listed address, multiple sources confirm.
Police told reporters the woman who was shot has been under surveillance for some time as part of an ongoing investigation, CBS reported.
Her identity has not been revealed by police, who declined to arrest her at the scene, but are guarding her at the local hospital where she was taken and remains in serious but stable condition, the BBC reported.
Police also arrested a 43-year-old woman in the Kent raid.
All the suspects are being questioned and held, but not officially charged, on suspicion of preparation of terrorist acts, the Washington Post reported.
An unrelated terror attack near the London House of Parliament was also foiled Thursday when police arrested a 27-year-old man wielding multiple knives, the Guardian reported. Local police and MI5 security forces were tipped off and waiting for the attack after members of the country's Muslim community expressed concern about the suspect's behavior, the Guardian reports. 
The UK's terrorism threat level remains at the second highest category, "severe," according to the UK's MI5 security service website. 
Counterterrorism police told the Washington Post they've thwarted 13 potential terror attacks over in the last four years.