In today's news climate, this satirical anti-abortion headline seems real — but it's not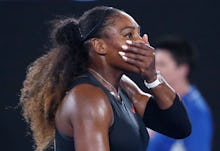 When Serena Williams (accidentally) announced she was expecting, it didn't take long for people to put together that the world champion tennis star had won the Australian Open while pregnant.
While Williams insisted it was mostly NBD, for us mere mortals it was proof of the athlete's godlike tennis skills — which is why many Twitter users were baffled when @PollyRosey tweeted out a headline reading, "Anti-abortion advocate calls for Serena Williams to be stripped of grand slam title, claiming 'fetal personhood' means she was unfairly advantaged."
The deck on the article added, "The legislator claims the fetus technically should have counted as a doubles partner." 
A quick scan of the article, published on Australian student newspaper Honi Soit's site, would reveal that it was filed to the "comedy" section. But considering the rigorous — and often straight-up absurd — anti-abortion waters we're swimming in, some 90,000 Twitter users (as of this writing) accepted the headline as fact.
Sure — it's possible that a good portion of those 90,000 users who favorited and retweeted @PollyRosey's tweet could've done so realizing it was a joke. 
That sure as hell wasn't the case in the user's mention, though.
"What are they going to do next — make pregnant women pay for two bus fares?" Twitter user @_Isabellaannie wrote. "I can hardly see how it's an advantage your body would be going through so much already," @PollyRosey replied, apparently in earnest.
"If anything it's a disadvantage as she's carrying extra weight and has to be more careful, how ridiculous," she added in a follow-up tweet, which earned 291 favorites.
Under normal circumstances, we might think it ridiculous that tens of thousands of people would believe that a legislator in the United States government would suggest Williams' fetus counts as her tennis partner. But in a world where a Missouri state senator joked that women should get abortions at the zoo, it could easily be mistaken for just another day in President Donald Trump's America.