North Korea test-fires ballistic missile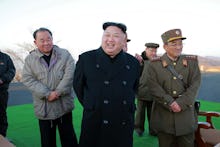 North Korea attempted to test-fire a ballistic missile on Saturday, South Korean news agency Yonhap reported. A U.S. official confirmed the failed test to CNN, adding that the missile landed in the Sea of Japan.
The missile was fired from a site in South Pyongan province, BBC reported. The type of missile tested is still unknown, though it was likely a medium-range ballistic missile called a KN-17, according to reporting from CNN.
The failed test came directly on the heels of harsh comments made by Secretary of State Rex Tillerson toward the isolated nation during a special United Nations meeting set up by the United States. On Friday, Tillerson called on world leaders to ratchet up the pressure on North Korea, CNN reported, additionally warning that ignoring the highly volatile regime could be "catastrophic."
"All options for responding to future provocations must remain on the table," Tillerson said. "Diplomatic and financial leverage or power will be backed up by willingness to counteract North Korean aggression with military action, if necessary."
Tillerson noted that the U.S. is prepared to take military action against North Korea and "will not hesitate" to sanction any third country entities that act to support North Korea's activities.  
On Thursday, President Donald Trump told Reuters, "There is a chance that we could end up having a major, major conflict with North Korea," adding that he'd prefer to see things resolved peacefully.
President Trump tweeted Friday evening about his distaste for North Korea's missile test, writing, "North Korea disrespected the wishes of China & its highly respected President when it launched, though unsuccessfully, a missile today. Bad!" 
April 28, 2017, 7:40 p.m.: This story has been updated.