Hasan Minhaj's 8 best jokes at the White House correspondents' dinner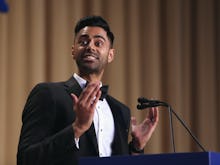 Comedian Hasan Minhaj stole the show at Saturday's White House Correspondent's Association Dinner with his simple and elegant opening line: "Welcome to the series finale of the White House Correspondents' Association Dinner."
Minhaj's upbeat and enthusiastic style livened up an otherwise sleepy event filled with presentations, awards and little to no mention of President Donald Trump. 
Minhaj said twice that he was told not to roast the president or his administration. Though we can't confirm if this was another joke from the Daily Show with Trevor Noah correspondent, we can confirm he decided to go all in on the "orange man behind the Muslim ban," as he described Trump. 
Here are eight of Minhaj's best jokes of the night, some of which could double as a truth bomb the media needed to hear.
Minhaj explained where journalists rank.
And how the entire event came down to an immigrant. 
Minhaj went in on Trump's absence from the event.
And the president's bizarre tweeting habits. 
He explained how journalists are the country's newest minority.
But still couldn't believe Fox dared to show up. 
Minhaj gave Steve Bannon a special shoutout.
And explained the real reason the leader of the United States didn't show up. 
Minaj's final statement was far from a joke but is still worth watching over and over again.