Katy Perry takes heat for comparing her "old, black hair" to Barack Obama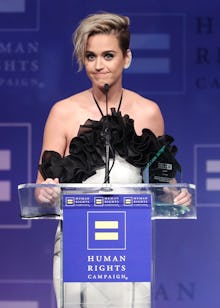 Pop star Katy Perry is getting blasted on social media for comparing her "old black hair" to Barack Obama.
The "Bon Appétit" singer — and her new blonde pixie hairdo — was using Instagram Live when a user apparently mentioned preferring Perry's previously long, brunette hairstyle.
"Awww! Someone says I miss your old, black hair," Perry can be seen saying in the video. "Ohhh! Really? Do you miss Barack Obama as well? OK. Times change. Bye. See you guys later." 
Perry laughs as someone in the background tells her, "You're cut off."
Music producer DJ Scream put Perry on blast via Twitter on Sunday, along with a host of other social media users who called her "tasteless" and said she was "cancelled."
At least one Instagram user tried to come to Perry's defense, pointing out that she may have been referencing the screen name of the user who commented about her old hairstyle — not making disparaging remarks about former President Obama or those who miss him. According to a post by @TheIndustryOnBlast, the user's Instagram handle was @MsBarackObamaAswell.
As for Perry's political affiliations, the pop star campaigned for Clinton in the 2016 election and supported Barack Obama in 2012.
She hasn't publicly responded to the social media backlash, but perhaps it's because she's focused on co-chairing Monday night's Met Gala.