Navigating Trump's America: This weekend told a tale of two Donald Trumps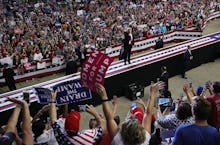 President Donald Trump has two styles by which he operates, and over the weekend he displayed flashes of both. Just as Trump drew criticism for his friendly call with another authoritarian leader, Republicans approved a deal with Democrats to keep the government functioning that funds Planned Parenthood and supplies no money for Trump's wall. Those are just a couple of data points that suggest both sides of Trump — the bomb thrower and deal maker — can be simultaneously on display.
On Saturday night, Trump rallied with several thousand supporters in Harrisburg, Pennsylvania. In interviews at the rally, supporters largely said they love what they've seen so far — and hope Trump doubles down on his campaign promises. The rally felt like the campaign was still in full swing, with Trump liberally targeting attacks against journalists, Democrats and even Hillary Clinton — despite almost six months having passed since the presidential election.
Earlier Saturday, Trump had invited the president of the Philippines to the White House, a man who has been accused of human rights violations. Chief of Staff Reince Priebus said Sunday the administration has "looked at" amending the U.S. Constitution to sue journalists. And a Face the Nation interview raised questions about how Trump is handling a threat from North Korea.
On the whole, these are the actions that terrify Trump's opponents. And yet he took other actions this weekend suggesting he is becoming more moderate.    
For one, Sebastian Gorka, a national security adviser, will leave the White House in the next couple months after scrutiny of Gorka's ties to a far-right group in Europe. Trump also promised Sunday that whatever health care reform passes, Congress would force insurers to maintain coverage of pre-existing conditions — a requirement the House Freedom Caucus sought to have removed from the American Health Care Act.
Trump also let Republicans strike a deal with Democrats to keep the government open until Oct. 1. That agreement does not include funding for Trump's border wall and keeps Planned Parenthood funded. It also invests in scientific research and allocates federal funds to fight opioid addiction. Trump cannot cite major victories for his campaign promises in the agreement, other than a small increase in funding for border security. Senate Minority Leader Chuck Schumer (D-N.Y.) credited Democrats with a victory through the deal.
Look at the toplines of those stories: Trump is kicking an extremist out of the White House, maintaining a core provision of the Affordable Care Act and compromising to keep Washington running. The weekend was a reminder that Trump's more unorthodox statements have been accompanied by a willingness to compromise and moderate his positions.
This is Mic's daily read on Donald Trump's America. Welcome to the political newsletter that can hardly keep up with the political shape-shifting. 
Highlights: 
Today: In one weekend, Trump showed his moderate side and a radical one.
More: The president will soon decide whether to pull the U.S. out of an international agreement to fight climate change.
Even more: A health care vote could be imminent. Or not — it remains unclear if Trump knows what's in his bill.
Trump's agenda today: Signing a Law Day proclamation. Meeting with Secretary of State Rex Tillerson. Having lunch with Tillerson, Vice President Mike Pence and Defense Secretary James Mattis.
The new policy area to watch: Climate change
A week after the March for Science, tens of thousands of people on Saturday endured temperatures in the 90s to join the People's Climate March on Washington. Protesters stood on the streets encircling the White House to draw Trump's attention to their demands that he implement policies to fight the causes of climate change.
The protest came hours before Trump announced at his Pennsylvania rally that he will soon decide whether the United States should remain in the Paris climate agreement. That decision will come in the next two weeks. Trump's advisers are split on whether the U.S. should remain in the accord, finalized during Barack Obama's presidency, among countries to reduce fossil fuel emissions and slow global warming. Mic's Jack Smith spoke with young climate change activists at the Washington march.
A sign of how the Trump administration views climate change: The Environmental Protection Agency's webpage explaining climate change was taken down ahead of the march, replaced by the words "this page is being updated."
Health care vote imminent? 
With a close adviser of Trump announcing Monday morning Republicans have the votes to pass health care reform, the White House is eyeing a vote on the American Health Care Act sometime this week. Republicans are leaving Washington on Thursday and many are saying this may be the final moment to move forward on the conservative bill. The problem: Trump does not seem to understand what is in his bill. Trump said on Twitter and on Face the Nation that the GOP health care bill would preserve mandated coverage for people with pre-existing conditions. It does not. A top Trump ally told the New York Times that Republicans would not seek a new Congressional Budget Office score before voting — rushing their legislation to the floor without revealing its impact. Meanwhile, the Affordable Care Act really is falling apart — especially in rural areas that heavily supported Trump — because many of these states didn't participate in Medicaid expansion and insurers have started to back out of areas they see as too high risk.
News and insight you cannot miss:
•  Dozens of Democrats are eyeing 2020, including former Vice President Joe Biden, Sen. Bernie Sanders (yes, technically an independent) and others. (New York Times)
•  Engagement with Trump's tweets has dropped by two-thirds. (Gizmodo)
•  Trump and Obama issued very different proclamations on Loyalty Day. (Mic)
•  The eight best jokes at the White House Correspondents Association dinner. Yes, Trump was trolled. (Mic)
•  A longtime Republican member from Congress from South Florida is retiring. Democrats view the seat as an easy pickup. (Miami Herald)
•  Mic's Zak Cheney-Rice tells the story of a failing school on an Indian reservation at the bottom of the Grand Canyon — and what it says about the state of education for some minorities in the United States. (Mic)
•  ICYMI: Trump wrote in the Washington Post why he thinks his first 100 days were a success. The Post asked for that op-ed, Mic reported, which went live just before Trump bashed the media anew at his Saturday rally.