The Nintendo Switch is a hit — but to me, it's a huge disappointment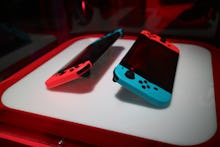 The Nintendo Switch is supposed to be a portable console and a home system all in one. Instead, it's collecting dust on my TV stand. 
Now that the initial excitement of a new Zelda adventure has worn off, I'm left feeling hollow and disappointed by the new device.
Nintendo hasn't convinced me that it's worth keeping the Switch by my side at all times. Further, aside from the occasional round of Mario Kart 8 Deluxe, I haven't been getting much enjoyment out of the system. 
I'm not satisfied with the Switch — not yet. And sometimes, this makes me feel broken as a video game fan and as a Nintendo fan. 
But there has to be something better up Nintendo's sleeve, right?
The big problem
Nintendo failed to keep its early adopters hooked in the crucial first months, offering a swath of ports and re-releases instead of the games that fans really want to play — like new Pokémon, Super Smash Bros. or Metroid games.
There's no ignoring The Legend of Zelda: Breath of the Wild, which packs in enough content to keep players busy for months on end. But even the biggest open-world adventure eventually comes to an end, and when that happened to me, the Switch quickly lost its appeal.
The rest of Nintendo's launch lineup included 1-2-Switch, Super Bomberman R, Just Dance 2017 and other games you might find in the "bargain bin" category. 
Then there's Mario Kart 8 Deluxe, a near-perfect rendition of Mario Kart 8. It's a dream to play, but it doesn't have the power to keep me glued to the system, either.
In theory, there are promising things to come. Super Mario Odyssey is the real reason I was so interested in the Switch to begin with. (And I'm not alone — the console is selling very well.) I'm patient enough to wait for it, and I know there are at least a few other titles worth waiting for, too — new No More Heroes and Shin Megami Tensei entries, to name a few. 
Then there are the technical issues
Two months in, I'm finding it harder than ever to recommend the Nintendo Switch to a friend. The system's few positives are outweighed by its lack of interesting games and various technical issues, which range from Joy-Con connection issues to reports of bloated batteries and warped screens. 
On the interaction side, the Switch feels clumsy. 
It's much heavier than the 3DS when it's in tablet form, which makes it difficult to cart around. It's cumbersome to wield, regardless of what size your hands are. In tablet mode, smaller hands are at a disadvantage. The constant threat of dropping my Switch or someone stealing it is enough to make me want to keep it safe at home. 
Believe it or not, I'd probably recommend the handheld 3DS over the Switch, thanks to its superior library of portable titles. And if you're looking for a home console, you may even be better off picking up an old Wii U — the now-obsolete console never really got its fair due and does a perfectly good job running Zelda: Breath of the Wild.
Holding out hope
It's possible that Super Mario Odyssey will really blow me away and change my mind, or maybe Nintendo will unveil a dazzling new lineup this summer at E3 2017. 
But until that happens, I don't expect to get much use out of my Switch, and I can't in good conscience recommend the system to anyone else — as sad as that makes the Nintendo fan in me feel.
Check out more Nintendo Switch news and coverage
Looking for more Nintendo Switch news? Check out how blind gamers are using the Nintendo Switch. Nintendo's left Joy-Con issue turns out to be a hardware problem — here's how to solve it. Find out how to buy a console amidst the recent restock. Learn why the Switch cartridges taste so bad. Check out our comparison photos sizing up the Switch to the Wii U GamePad (part one and part two), or find out how to make use of ethernet without the dock and the best way to get alerts when new stock arrives.