Ryan Seacrest Net Worth: Here's how much the new 'Live With Kelly' cohost gets paid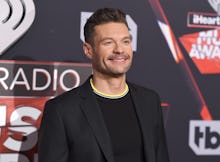 After an exhaustive hunt for a new Live With Kelly cohost, broadcast personality Ryan Seacrest is filling the seat left by Michael Strahan more than a year ago: The show announced the end of the lengthy search during Monday's broadcast, with Ripa naming her new partner after testing out 67 potential cohosts — from Anderson Cooper to Fred Savage.
Before she made the announcement, Ripa joked to the yet-to-be named host, "Don't be nervous, you're going to be great," as ABC News reported.
Seacrest is a busy guy: In addition to his regular morning radio show, On Air With Ryan Seacrest, he also hosts E!'s Live From the Red Carpet, is a producer of Keeping up With the Kardashians and hosts Dick Clark's Rockin' New Year's Eve With Ryan Seacrest. He also has his own clothing line at Macy's.
All that hard work has paid off for Seacrest, who, as of July 2016, has a net worth of $55 million, according to Forbes. The 42-year-old got his start working as a DJ in his hometown of Atlanta in high school but didn't hit it big until 2002, when he started hosting American Idol. Along the way he has appeared on the Today show and hosted The Million Second Quiz game show.
While Seacrest's salary on his new gig hasn't been made public, it's likely to be close to the $15 million he made annually on American Idol. Ripa's former cohost Michael Strahan was pulling in about $10 million from the show by 2015 with Ripa making $15 million, Heavy reported.
Live could use a ratings boost. While it is the second most watched daytime syndicated talk show, after Dr. Phil, viewership dropped 18% this past season to an average of 3.2 million viewers, the Los Angeles Times reported.
The new morning duo's relationship dates back to 2005 when they began a four-year cohosting gig for the Walt Disney Christmas Parade, not to mention the numerous appearances Seacrest has made on Live over the past year. One wrinkle in the new transition is that Seacrest is based in Los Angeles, so he plans to move his radio production to New York, while maintaining his production companies on the West Coast.
Sign up for The Payoff — your weekly crash course on how to live your best financial life. Additionally, for all your burning money questions, check out Mic's credit, savings, career, investing and health care hubs for more information — that pays off.