May Day NYC 2017: Protests mark annual workers' rights day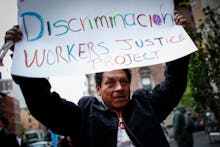 Droves of protesters are taking to the streets in cities across the country for May Day, also known as International Workers' Day, on Monday.
Normally a day for workers' rights, the first May Day in the era of President Donald Trump has become an all-encompassing protest against Trump's policies, ranging from his crackdown on immigration to his attempts to scrap the Affordable Care Act to his nebulous tax plan that analysts say would make the rich richer and the poor poorer.
In New York City, the birthplace of Occupy Wall Street, protests against Trump's "anti-worker policies" are scheduled to begin at 5 p.m. Eastern.
Mic's Jack Smith IV is on the scene and reporting live, where he reports over 1,000 are in attendance.