These Ohio quadruplets all chose Yale over Harvard after being accepted to both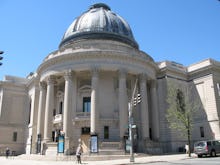 They've decided.
The quadruplet brothers who were all accepted to both Yale and Harvard announced on Sunday that all four of them will attend Yale together.
The decision wasn't easy for the 18-year-old Wade brothers — Zach, Nigel, Nick and Aaron — who hail from Ohio's Liberty Township near the Cincinnati metro area. NBC News reported after a campus visit to Yale and an "extraordinary" financial aid package, the university's appeal was too good for the brothers to pass up.
"I absolutely enjoyed the people and the social environment and appreciated the strong arts and humanities at Yale," Aaron Wade told NBC.
The choice for the brothers to attend college together wasn't automatic and came down to the wire.
They received offers from a combined 59 schools, according to NBC.
"They honestly would not let my wife and myself know what they wanted to do," their father Darrin Wade told NBC. "We have more or less tried to stay out of it."
Nick and Nigel were the first to accept Yale's offer on April 26 followed by Zach who decided two days later. Aaron was the holdout who made his decision late Sunday night only hours before the May 1 deadline, NBC reported.
The Wade brothers aren't the first set of quadruplets to all be accepted to Yale. In 2010, the Danbury, Connecticut-based Crouch siblings —  Kenny, Martina, Ray and Carol — all accepted offers to attend the university, according to the New York Times.