May Day DC 2017: Watch the demonstration against President Donald Trump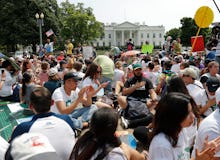 This May Day, also known as International Workers' Day, protesters converged on Washington, D.C., to speak out against Donald Trump's presidency and policies. 
Normally an occasion to champion workers' rights, this May Day was expected to turn into a smorgasbord of anti-Trump sentiment targeting his crackdown on immigration, his failed effort to repeal and replace the Affordable Care Act and his vague and troubling rhetoric on trade.
Mic's Will Drabold reported live from the scene.