Paris police officers set on fire by Molotov cocktail after May Day protest turns violent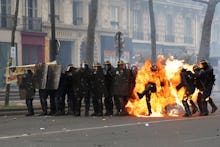 May Day protests took a violent turn in Paris on Monday, leaving both citizens and officers injured.
Tension in France was already at an all-time high before the annual trade union demonstration got underway, thanks to a particularly tumultuous presidential election that has deeply divided the nation. Many of the protesters who took to the streets Monday were reportedly there to show their distaste for both far-right candidate Marine Le Pen and centrist Emmanuel Macron.
A protestor simply identified as Sophie told Le Monde, "I am against Macron, but the most urgent thing is to stop the Front National from winning. So I will vote for him. After the second round, we'll fight against Macron."
At the protest, the Independent reported, police deployed both water cannons and tear gas against demonstrators before they fought back with Molotov cocktails, resulting in several officers being engulfed in flames.
In total, six riot police officers were injured, the Guardian noted, one with third-degree burns to his hand and face.
Just prior to the violent demonstrations in Paris, thousands of Le Pen's supporters gathered just north of city for her final rally before the vote on May 7. At the event Le Pen compared Macron to U.S. presidential candidate Hillary Clinton and accused him of being a puppet of the finance world, the Guardian reported. 
"Today, the enemy of the French people is still the world of finance," she said. "Form a barrage against finance, arrogance, money as king."
In another eerily familiar statement for American voters, Macron told his supporters at his own rally, "Don't boo her! Fight her. Make Le Pen lose next Sunday!"
If that phrase sounds familiar, it's because it is. It is nearly identical to what President Barack Obama told Clinton supporters to do to Trump at a July 2016 rally.
In reaction to hearing about the protests, Le Pen simply tweeted, "I pay tribute to the two CRS [riot police officers] injured in Paris. It's this chaos and permissiveness I don't want to see any more in our streets."