UT Austin stabbing: Here's what happened and what we know so far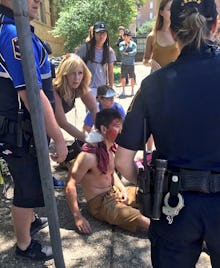 On Monday, 20-year-old student Kendrex J. White allegedly attacked four people on the University of Texas at Austin campus, leaving one dead and three injured, according to ABC. 
Austin Police Chief David Carter said in a press conference that all of the victims were students believed to be about age 20, according to ABC. About 25 people, mostly students, witnessed the stabbings, Carter added.
According to the Washington Post, UTPD got a call regarding the assault at 1:49 p.m. local time near the school gym. Two minutes later, officers arrived on scene and "observed the individual walking away from an individual who was down on the ground," Carter said. "He was armed with a large, Bowie-style hunting knife." The officers then confronted the subject and took him into custody. Minutes later they learned of three more victims in the area.
"The officer discovered that unfortunately, in addition to that single individual who had been stabbed, within about a block, there were three additional victims, all male, all determined to be students, who were also stabbed," Carter said at the press conference, the Washington Post reported.
Student Rachel Prichett told CBS she witnessed the attack in front of the gym while waiting in line at a nearby food truck. "The guy was standing next to me," Prichett said. "He grabbed him by the shoulder and shoved the knife in it. I just started running as fast as I could."
UT Austin President Greg Fenves wrote in a statement, "There are no words to describe my sense of loss. Campus safety is our highest priority, and we will investigate this tragic incident to the greatest extent possible." 
Fenves additionally told reporters at the press conference that the threat to students appeared to be over, though the investigation is still open. He did however urge students to "call your parents, to let them know you are safe" adding, "At this time of this awful tragedy, our thoughts and prayers are with the victims and the families of this incredibly senseless attack, which attacks the entire UT campus and UT family."