State Department issues travel alert for all of Europe amid terrorism threats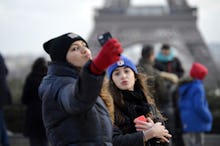 On Monday, the U.S. State Department issued a travel alert for all of Europe, telling U.S. citizens to be cautious of the threat of terrorist attacks throughout the continent, Reuters reported.
"Recent, widely-reported incidents in France, Russia, Sweden and the United Kingdom demonstrate that the Islamic State of Iraq and ash-Sham (ISIS or Da'esh), al-Qa'ida and their affiliates have the ability to plan and execute terrorist attacks in Europe," the alert read. "While local governments continue counterterrorism operations, the Department nevertheless remains concerned about the potential for future terrorist attacks. U.S. citizens should always be alert to the possibility that terrorist sympathizers or self-radicalized extremists may conduct attacks with little or no warning."
A State Department official told Reuters that Monday's alert was not prompted by a specific threat, but rather an update to its previous alert, which expired in February and to recognize the continued threat of attacks.
The alert added, travelers should be particularly aware of their surroundings when visiting local tourist locations, transportation hubs, shopping malls, hotels, clubs, restaurants, places of worship, parks, high-profile events and more, as they remain "priority locations for possible attacks."
Monday's alert marks the fourth travel alert the State Department has issued for Europe in the last year, the Washington Post reported.
Currently, the State Department has three separate alerts issued: Europe, Kenya and South Pacific (for cyclone season). The State Department has also issued 41 separate travel warnings. Warnings, the State Department said, are issued when "we want you to consider very carefully whether you should go to a country at all."
The State Department urges all travelers to check the website of the U.S. embassy or consulate in their destination country and to stay in touch with friends or family throughout their journey.