An FBI translator defected and married a member of ISIS she was investigating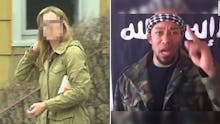 Former FBI translator Daniela Greene's job was to spy on a suspected ISIS leader. Instead, she fell in love and married him — putting her life and American national security at risk in the process, CNN reported Monday.
The FBI had previously tasked the now 38-year-old Greene with investigating German rapper-turned ISIS operative Denis "Deso Dogg" Cuspert. Originally from Berlin, Cuspert joined the Islamic State in Iraq and the Levant — aka ISIL or ISIS — in 2012 and now goes by the name Abu Talha al-Almani, according to the U.S. State Department.
Cuspert has since appeared in several videos promoting the terrorist organization, one of which shows him holding a severed human head while threatening the life of former President Barack Obama, according to the Telegraph.
Not long after he joined ISIS, Cuspert's apparent charisma and ability to recruit violent jihadist terrorists made him a target for counterterrorism operatives, including the FBI, according to multiple sources.
Greene used social media and Skype to spy on Cuspert, the Telegraph reported, but the unlikely lovers developed a bond. In 2014, Greene flew to Syria to be with Cuspert and lied to the FBI about the trip.
After spending a few months in the war-torn country, Greene returned to the United States and was arrested on terrorism charges, according to CNN. She agreed to cooperate with investigators and received a two-year prison sentence before being released last summer. Greene's case was only recently revealed to the public, thanks to a judge who unsealed related court documents.
CNN reported Greene had top security clearance with the FBI. Her defection to ISIS was a huge security breach and a major embarrassment to the bureau.
Former State Department official John Kirby told CNN that "most outsiders" trying to get into ISIS-controlled regions in Syria risk "getting their heads cut off."
"For [Greene] to be able to get in as an American, as a woman, as an FBI employee, and to be able to take up residence with a known ISIS leader, that all had to be coordinated," Kirby said.
In a statement to CNN, the FBI said it "took several steps in a variety of areas to identify and reduce security vulnerabilities" and "continues to strengthen protective measures in carrying out its vital work."
Greene now works as a hotel lounge hostess in an undisclosed location, according to CNN, and has declined to talk about the details of her case.
"If I talk to you, my family will be in danger," Greene told CNN.
Her attorney, former assistant federal public defender Shawn Moore, described his client as "smart, articulate and obviously naïve" but also said she was "genuinely remorseful" about what she did.
"She was just a well-meaning person that got up in something way over her head," Moore said.