Colin Kaepernick gives away his own suits outside of a New York City parole office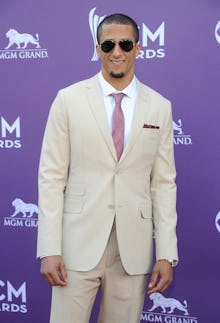 Colin Kaepernick did a bit of spring cleaning over the weekend. The NFL free agent donated some of his old custom-made suits to a New York City charity that helps formerly incarcerated individuals return to the workforce. 
According to the the Instagram account for 100 Suits for 100 Men, Kaepernick dropped his donation off at the Queens borough parole office on Sunday. The organization has a boutique inside of the New York City Department of Corrections Community Supervision Unit.
"That's love!!!!" 100 Suits CEO and president Kevin Livingston wrote on Instagram. "When you have Superbowl quarterback Colin Kaepernick and Hot 97 host Nessa personally drop off over two huge [U-Haul] boxes of custom made suits at our office."
In another one of Livingston's Instagram posts, Kaepernick shows off some of his used swag.
100 Suits provides the suits to their clients for free. "By being able to wear appropriate suits to their interviews, these men and women are better equipped to achieve gainful employment, which will ultimately help them to transition into mainstream society and live more productive live," the organization's website states.
Amid the controversy surrounding his decision to kneel during the national anthem, Kaepernick pledged to donate $1 million of his earnings to charity. He's already given out tens of thousands of dollars to a police reform advocacy group, the Black Lives Matter movement and the Meals on Wheels program, among other social causes. But Kaepernick's donation to 100 Suits strikes at the heart of his concerns over racial inequality in the U.S.
For decades, formerly incarcerated men and women have faced employment discrimination due to policies that allow employers to unfairly weed out applicants who indicate that they have a criminal conviction on their record. Such policies have cost the U.S. economy billions of dollars in gross domestic product — the value of all goods produced and service provided by a nation in a given year — according to the Center for Economic and Policy Research in Washington.
About 1.9 million potentially qualified workers were kept out of the workforce in 2014, according to a June 2016 CEPR report, reducing the overall employment rate by an entire percentage point. Black men who are formerly incarcerated suffered saw their employment rate reduced 4.7 to 5.4 percentage points in 2014, compared to a 1.6 reduction for Latino men and 1.3 percentage points for white men.
A suit worn by a famous NFL player won't end racial discrimination in the workforce. But perhaps Kaepernick's gesture will be just the thing applicants need to mask the scarlet letter of U.S. incarceration.