Michael Slager pleads guilty in Walter Scott shooting, avoiding federal civil rights trial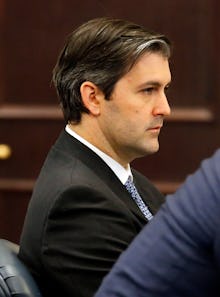 Michael Slager, the former North Charleston, South Carolina, police officer who shot Walter Scott in the back as he fled arrest in April 2015, pleaded guilty to civil rights charges Tuesday.
As part of a plea deal reached with the U.S. Justice Department, Slager, 35, agreed to plead guilty to one count of deprivation of rights under the color of law — meaning that he admits willfully depriving Scott of the right to be free from the unreasonable and excessive use of force by police, according to court documents.
In exchange for his plea, the federal government will dismiss the charges of obstruction of justice, which Slager drew for allegedly misleading officials about his encounter with Scott. A separate use of a firearm during a crime of violence has also been dismissed.
The former officer faces up to life in prison and a maximum fine of $250,000, although the law does not require a minimum amount be set for either penalty. U.S. District Judge David Norton will decide the severity of punishment at Slager's sentencing.
"We hope that Michael's acceptance of responsibility will help the Scott family as they continue to grieve their loss," Andrew J. Savage III, Slager's lead attorney, said in a statement, according to a Los Angeles Times report.
Slager — who was fired from the North Charleston Police Department after video surfaced showing him shooting Scott, a black man, five times in the back on April 4, 2015 — will avoid a jury trial as a result of the plea. The plea agreement also stipulates that the state of South Carolina drops its effort to retry Slager on a murder charge. The state's first case against the officer ended when a judge declared a mistrial in December.
(Editor's note: This video contains disturbing footage. View with discretion.)
The retrial was set to begin in August.
The resolution of the federal case against Slager represents the first time the Trump administration Justice Department, under Attorney General Jeff Sessions, has had to weigh in about the prosecution of a police officer. During the presidential campaign, Donald Trump called for "law and order" policies such as stop and frisk, which are widely seen as the source of police brutality cases. Sessions alarmed civil rights activists when he called for a review of all police reform agreements that were intended to help police departments address abuses.
On Tuesday, Sessions affirmed his intention to hold any police officer accountable for unlawful conduct. 
"The Department of Justice will hold accountable any law enforcement officer who violates the civil rights of our citizens by using excessive force," Sessions said in a statement. "Such failures of duty not only harm the individual victims of these crimes; they harm our country, by eroding trust in law enforcement and undermining the good work of the vast majority of honorable and honest police officers."
May 2, 2017, 5:14 p.m. Eastern: This story has been updated.