Merkel pushes Putin to stop LGBTQ killings in Chechnya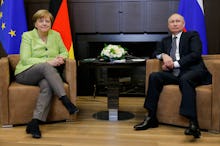 In her first visit to Russia since 2015, German Chancellor Angela Merkel asked Russian President Vladimir Putin to use his influence to curb the alleged state-sanctioned murder of LGBTQ people in Russia.
At a "tense" meeting in Sochi, Merkel said she'd heard "negative reports on the way that homosexuals are dealt with, particularly in Chechnya," and asked Putin "to use his influence to ease the way that homosexuals ... are dealt with in the country," the BBC reported.
LGBTQ rights in Russia
While the full extent of what happens to LGBTQ people in Chechnya is largely unknown, Russia is, generally speaking, hostile toward its LGBTQ population. In 2013, the country passed "gay propaganda laws" subjecting those who promote "nontraditional relations" to fines of up to 100,000 rubles — or $1,750.
In Chechnya — an autonomous, Muslim-majority republic within Russia — things are even worse. According to the New York Times, a blockbuster report in the Russian opposition newspaper Novaya Gazeta found that gay men in the region are routinely rounded up by police and placed in secret detention sites. Others are killed.
Chechen president denies reports of abuse
Chechen President Razman Kadyrov denied that his government is targeting LGBTQ people. Initially, his spokesman said it would be impossible for Chechnya to arrest gay people because there were no gay people in Chechnya to arrest.
But human rights groups and world governments say the purge is real. 
Sir Alan Duncan, a British member of parliament, said that at least four gay men have been killed and hundreds have been imprisoned. Duncan also said said Kadyrov plans to "eliminate" Chechnya's gay community by the start of Ramadan — May 26.