Hillary Clinton blames FBI, Russian hackers and misogyny for her election loss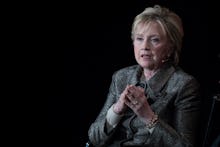 Hillary Clinton revealed the three reasons she believes she lost the election: FBI Director James Comey, Russian hackers and misogyny.
"If the election had been on October 27, I would be your president," Clinton told CNN's Christiane Amanpour at a Women for Women event in New York City on Tuesday.
"I take absolute personal responsibility," Clinton said. "I was the candidate, I was the person who was on the ballot. I am very aware of the challenges, the problems, the shortfalls that we had."
She added that she was "on the way to winning until a combination of Jim Comey's letter on October 28 and Russian WikiLeaks raised doubts in the minds of people who were inclined to vote for me and got scared off."
Indeed, it was just days before the election that Comey reopened a review of emails potentially tied to Clinton's private email server scandal. Soon after reopening the review, Comey announced in November that it did not change the FBI's position on the matter.
Comey wrote in a letter to Republican members of Congress at the time, "We reviewed all of the communications that were to or from Hillary Clinton while she was secretary of state. Based on our review, we have not changed our conclusions that we expressed in July with respect to Secretary Clinton."
Clinton also remarked that Russian President Vladimir Putin "certainly interfered in our election, and it was designed to hurt me and help my opponent." She said the interference came through Wikileaks, which released emails from her campaign chief, John Podesta, intending to damage her and take the focus off Trump's damaging 2005 Access Hollywood tape, which had just become public. The footage featured Trump making sexist remarks about women to reporter Billy Bush.
But of course, these two factors alone didn't lose Clinton the election. When asked if she thought general misogyny could have played a pivotal role Clinton simply said, "Yes, I do think it played a role. I think other things did as well."
And, perhaps to throw a little shade Trump's way, Clinton mentioned several times throughout the interview, "I did win 3 million more votes than my opponent," CNN reported.
After Amanpour joked that Trump would likely tweet about that comment, Clinton replied, "Fine. Better than the interfering in foreign affairs. If he wants to tweet about me then I am happy to be the diversion, because we have a lot of things to worry about."
"He should worry less about the election and my winning the popular vote than doing some other things that would be important for the country," she said.